AI-generated donuts
If you're going to open a late-night donut shop, you're going to need a unique set of over-the-top donuts to set the proper festive atmosphere. But how to keep the ideas coming?
I decided to see what donut ideas I could get using OpenAI's GPT-3 text-generating models. I collected seven of the weirdest donuts and descriptions I could find (such as a pizza donut, or a dirt-themed donut), and presented them as a list for the AI to complete. I've drawn a few of the best donuts it added to the list.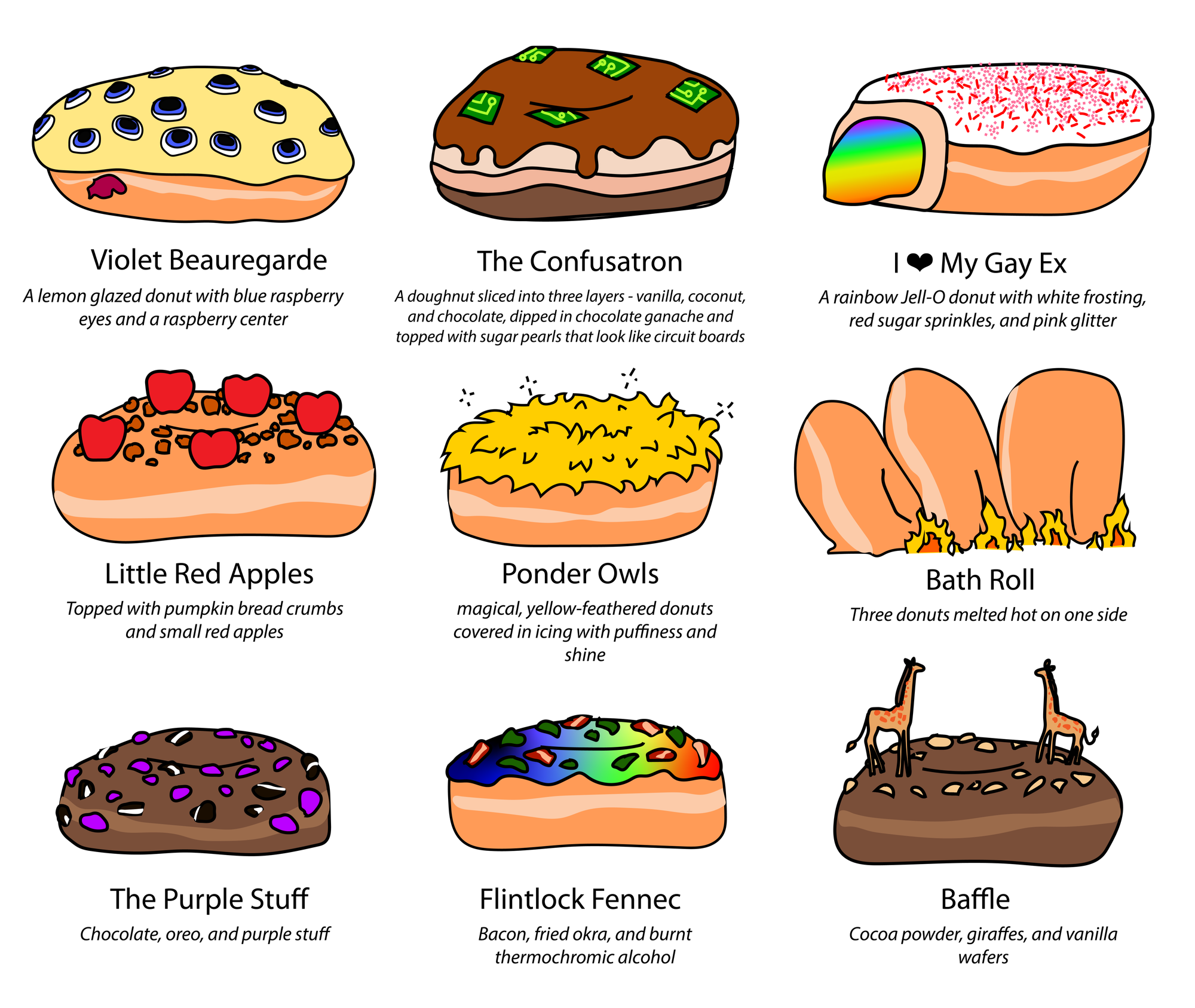 When I say I used "GPT-3" for this project it's hard to be exact about it, because OpenAI often updates the models. The newest GPT-3 versions (as of May 2022) actually did the worst at this task - they kept presenting me with real donuts that they'd seen during their online training, and not even particularly weird donuts. They were trying to match what was most common online, not what I was asking for. But the original early-2020 GPT-3 models were more willing to deliver the weirdness. Here are some more of my favorite results from the various models!
The biggest model, DaVinci
Violet Beauregarde - A lemon glazed donut with blue raspberry eyes and a raspberry center
The Candleberry Flu - A chocolate doughnut filled inside with ganache plus a dripping candle on top that's dripping liquid sediments
Brick of Yum - A glazed doughnut sandwiching American cheese, with red pepper jelly inside
The Confusatron - A doughnut sliced into three layers - vanilla, coconut, and chocolate, dipped in chocolate ganache and topped with sugar pearls that look like circuit boards
The Purple Stuff - Chocolate, oreo, and purple stuff sprinkled with powdered sugar
Curie, the second-largest model
Heckleberry - A strawberry donut smothered with blueberry syrup and crushed vegan Crunchies
Donut of Doom - Rainbow donut filled with Frosted Flakes, black sprinkles, and sour candy
The Alligator Rising - A spiral donut, frosted with chocolate and filled with a filling of chocolate hard-boiled egg and green apple slices
Hell Raisin - A jelly donut with a filling of peanut butter and hot dogs
Dark Crystal - A donut filled with candy corn and white chocolate chips
I ♥ My Gay Ex - A rainbow Jell-O donut with white frosting, red sugar sprinkles, and pink glitter
Fish N' Chips – Topped with chocolate and tangy tempura-flavoured icing
Babbage, the second-smallest model
Mr Crepe - Topped with tapioca pudding, green sprinkles
Little Red Apples - Topped with pumpkin bread crumbs and small red apples
Chalkista - Stationary donut with chalk dusting
Horns - Cupcake gripped in both of the animal's horns
Julius Rooms - A pair of bottomless donuts
Doughnut Forest - A profusion of donuts spread throughout the French Quarter
Flintlock fennec - bacon, fried okra, and burnt thermochromic alcohol
Baffle - cocoa powder, giraffes, and vanilla wafers
Ada, the smallest and definitely weirdest model
Bath Roll - Three donuts melted hot on one side
Friar Flats - Topped with tomatoes, honey, red paint and ceramic chili caps
Ponder Owls - magical, yellow-feathered donuts covered in icing with puffiness and shine
By Soul - filled with firecrackers, black bean dip, red pepper syrup, and watermelon
Coconut Fun - Sulphure hasn't been wiped off, a demon cake filled with coconut cream and pistachios
Blood Donut - Creamy moist donut topped with spoonfuls of delicious blood
Goofy Trick - the elephant, is a clown and it's all about tossing treats into his skull
Spankin' - Other-colored donut with a frying pan in the middle
Also thanks Ada for generating Extremely hard to illustrate donuts.
Bonus content: More of Ada's weird donuts (plus some donuts made of antimatter??)
Also you can buy the donuts on a tea towel! Along with pies, cookies, and breakfast cereals.