Easy Halloween treats generated by AI
Doing a Halloween party? Need to bring a festive food? Advanced artificial intelligence is here to help.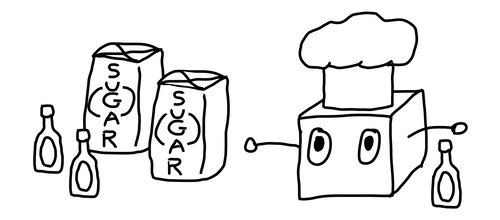 After all, some say that large neural networks like GPT-2, which trained on huge collections of text from the internet, have therefore absorbed huge amounts of the world's knowledge. They therefore ought to be able to serve as knowledge bases, bringing this vast reserve of information to bear on whatever query they're presented with.
And the neural net has surely read enough recipe blogs that it should be able to readily suggest what to make for any occasion. Below are some easy Halloween treats I generated by prompting the neural net GPT-2 345-M with a few existing treat ideas. I think you'll agree that they're quick, they're easy, and they're often even free.
Mummy Snickers

Toss some delicious candies in the bottom of a tall glass. The candy will be stuck to the glass and will have to be removed by the party staff when they get there.
Basket of Tubes

The kids will create something fun by piling tube-shaped fruits, vegetables, and other items into a basket filled with hot tea or water bottles.
Gobbling Gourd Pie

This dessert will be a hit for the kids. Create a simple pie from fruits, vegetables, and other items, fill with hot tea or water, and enjoy!
Spooky Spatula

As well as this wooden spatula that you can use for cleaning, you can also whip up some Spooky Spatula to bring to any party. This spatula has been designed to help turn your dinner party into a scary fun time.
Cheesecake and Cheese

You've been eating a lot of cheesecake, but why stop there?
Candy Corn Flakes

When you pour all of your party decorations in a pot and then pour hot coals into it, those candy corn flakes won't stay there long.
Monster-Studded Cakes

Make these monster-themed cakes by adding some of your favorite Halloween ingredients. For example, if you'd like to make a blue, black and yellow cake, you can add a piece of green slime to the bottom of the cake before applying the cake to a round cake pan.
Scary Stakes & Stump Tosses

If there's a zombie apocalypse, these might be the last meal your guest will ever bring home. The scary stakes are filled with chocolate candy and wrapped in a chocolate brownie. The pumpkin sticks are a fun twist.
Thanks, neural net!
Bonus content!
I generated a few more recipes in which the AI attempts to get into the Halloween spirit. AI Weirdness supporters get them as bonus content. Or become a free subscriber to get new AI Weirdness posts in your inbox!
Book!!
Did I mention I have a book coming out on November 5th? I have been working on it for two years and it is coming out in less than a week!!
My TED talk on AI, which is like the book in highly produced stage-lit miniature
More on the book, including rejected titles!
What neural nets are saying about the book!
Events!
If you live in Denver, or Seattle, I'm coming to your city for a book event!
Denver - Wed, Nov 6 - Tattered Cover Colfax - Book launch, followed by traditional Irish music at the Irish Snug
Seattle - Tues, Nov 12 - Elliot Bay Book Company - Reading & signing! My first time in Seattle!
Order the book!
Here are some links for ordering my book You Look Like a Thing and I Love You! It's out November 5 2019. Preordering now is one of the best ways to help my book do well - it's like a super duper order. Plus, US orders can get greeting cards and stickers as a perk!
Amazon - Barnes & Noble - Indiebound - Tattered Cover - Powell's