Fun facts about fun guys
There's this dating show called The Bachelorette, and they've revealed their new guys for the 2021 season! And I get it, in the promo graphics they have very little space to get into the nuances of a personality, but it has been pointed out that their fun facts are rather basic.
The neural net GPT-3 has seen a lot of dating profiles during its internet training. But has it seen this specific variety of astonishingly pedestrian dating profile?
I collected the fun facts from the contestants above and gave them to the largest GPT-3 variant, DaVinci, and it was almost too good at adding to the list:
Likes to revisit the classics
Believes in leaving false modesty at the door
Keeps his nails and hair trimmed
Dreams of buying a small island
Believes that being successful comes down to hard work and practice
Wants a house and mother for his future family
Loves pumpkin lattes
Love, love loves champagne
Believes in destiny
Is a self described daredevil
Loves his blue sleeping mask
Collects souvenir spoons
Always wears a scarf in the wintertime
Always picks mint gum or spearmint flavored gum
Will not touch fish or spicy food
Refers to himself as super romantic
GPT-3's aim is to copy humans, so it's no wonder that it's good at being cliche.
Although DaVinci did come up with a few fun facts that might give the Bachelorette some pause: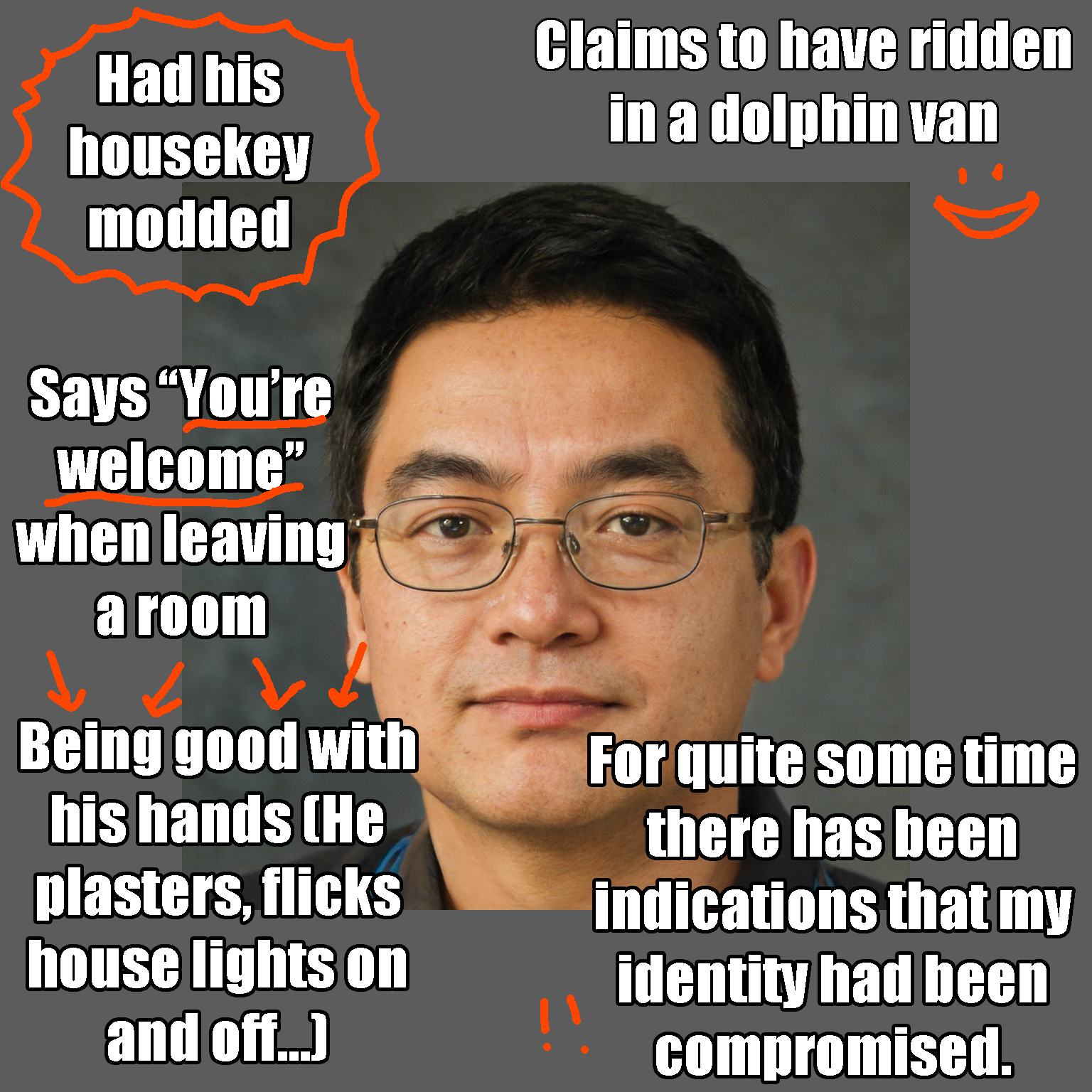 (AI-generated image from StyleGan2 via thispersondoesnotexist.com)
Had his housekey modded
Claims to have ridden in a dolphin van
Being good with his hands (He plasters, flicks house lights on and off…)
Says "You're welcome" when leaving a room
The best fun facts, however, were generated by the smallest GPT-3 variant. Now, Ada did manage to follow my prompt's lead and generate some pretty basic traits.
Doesn't want any of his exes in the picture
Loves to clean up after himself
Does not wear a vest
Loves fun dancing
Loves ballet and furniture
Is a type of schoolyard bully
Loves to whistle
Loves good TV
Has had to spend time in an airplane
Has no issues with using markers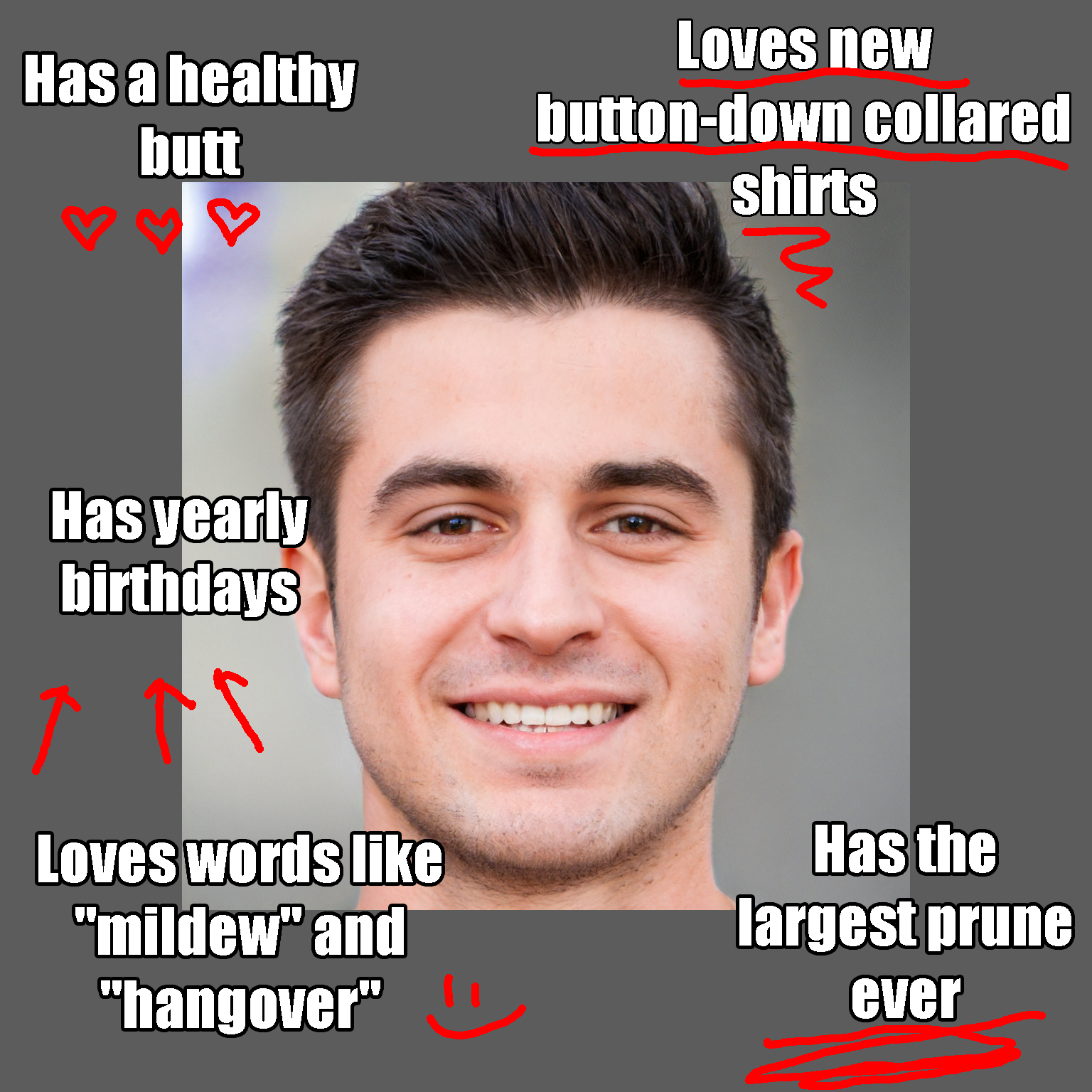 Has a healthy butt
Loves new button-down collared shirts
Has yearly birthdays
Has the largest prune ever
Loves words like "mildew" and "hangover"
But some were perhaps more intriguing than existing Bachelorette contestant facts.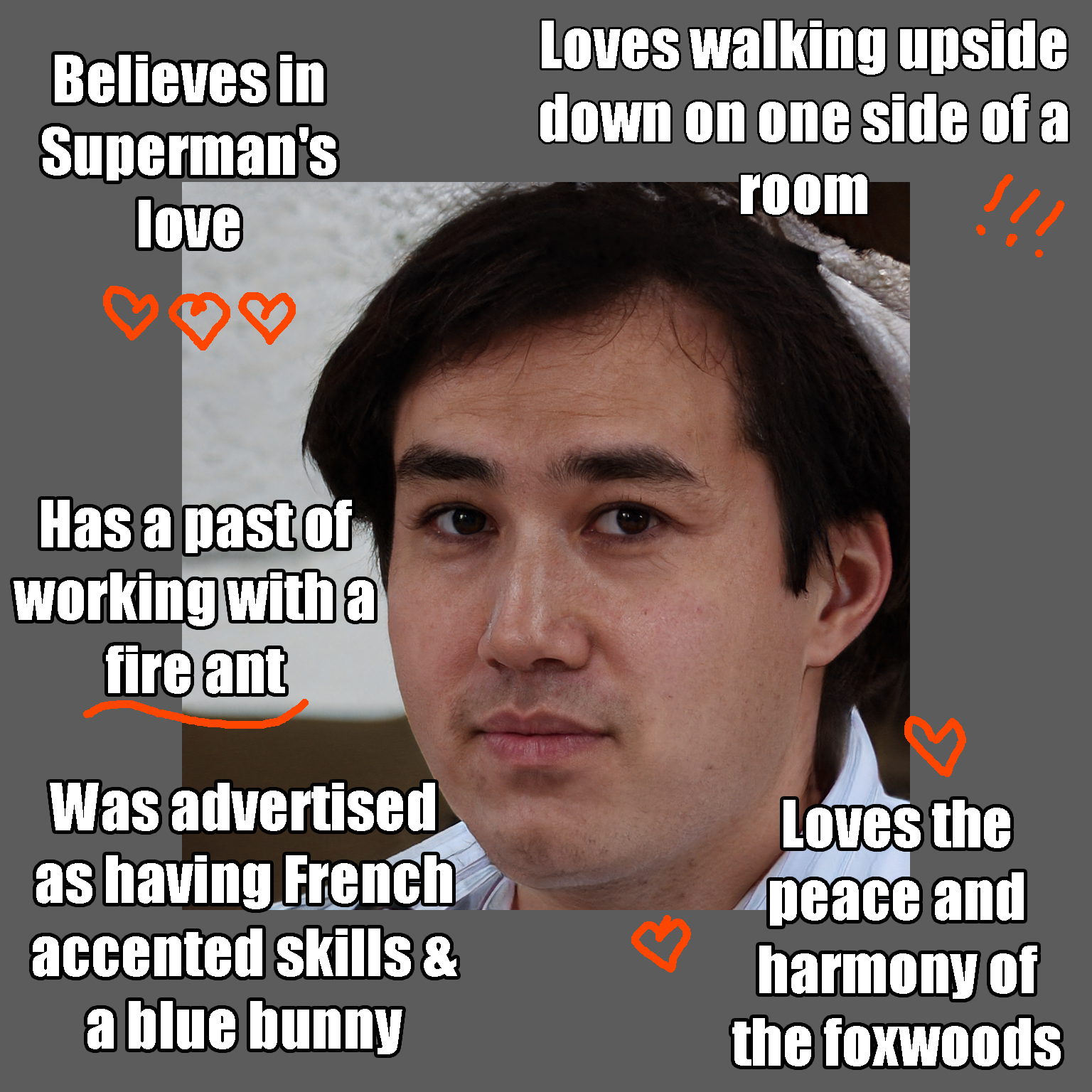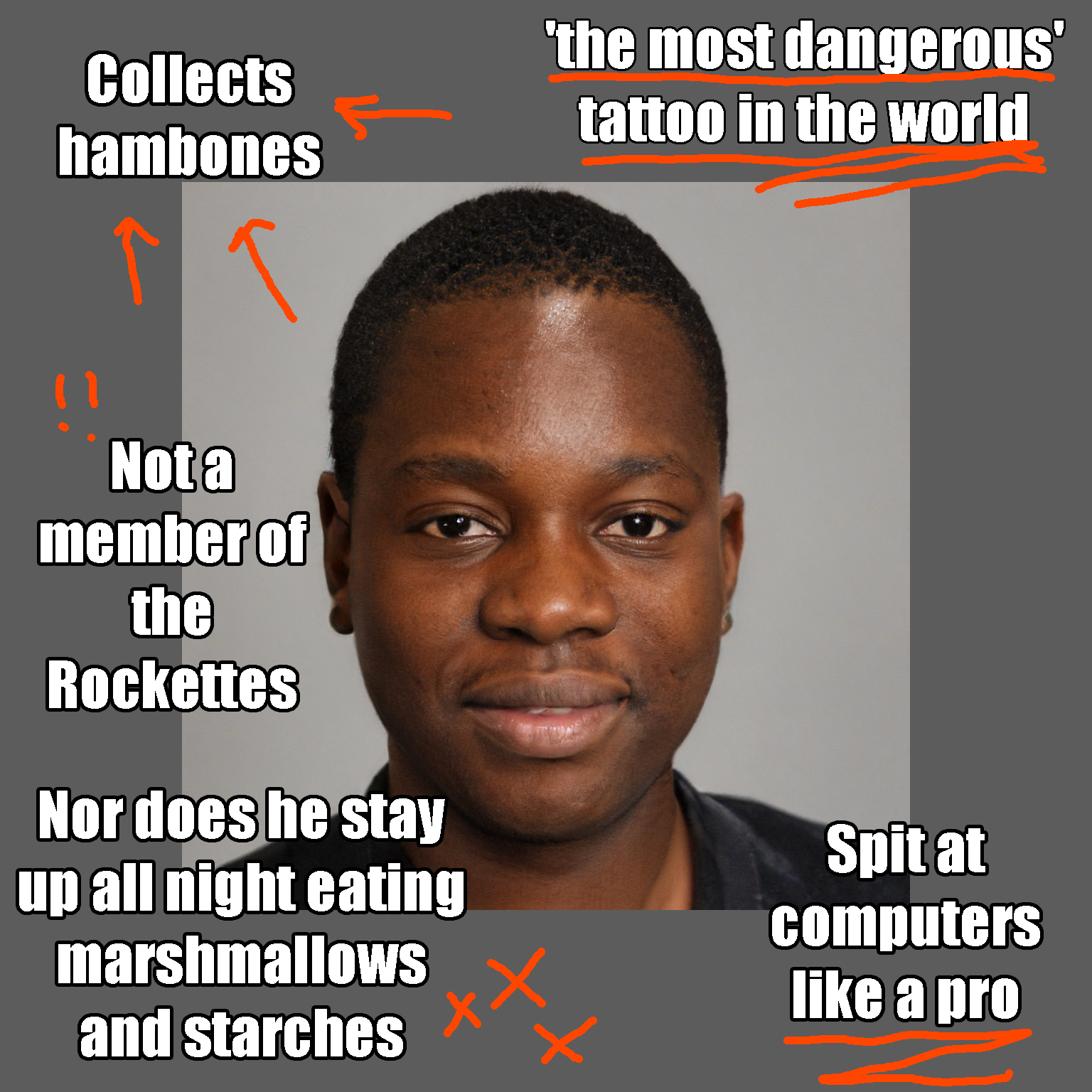 Believes in Superman's love
Has a past of working with a fire ant
Was advertised as having French accented skills & a blue bunny
Loves walking upside down on one side of a room
Loves the peace and harmony of the foxwoods
'the most dangerous' tattoo in the world
Collects hambones
Spit at computers like a pro
Not a member of the Rockettes
Nor does he stay up all night eating marshmallows and starches
Then there's the more... exuberant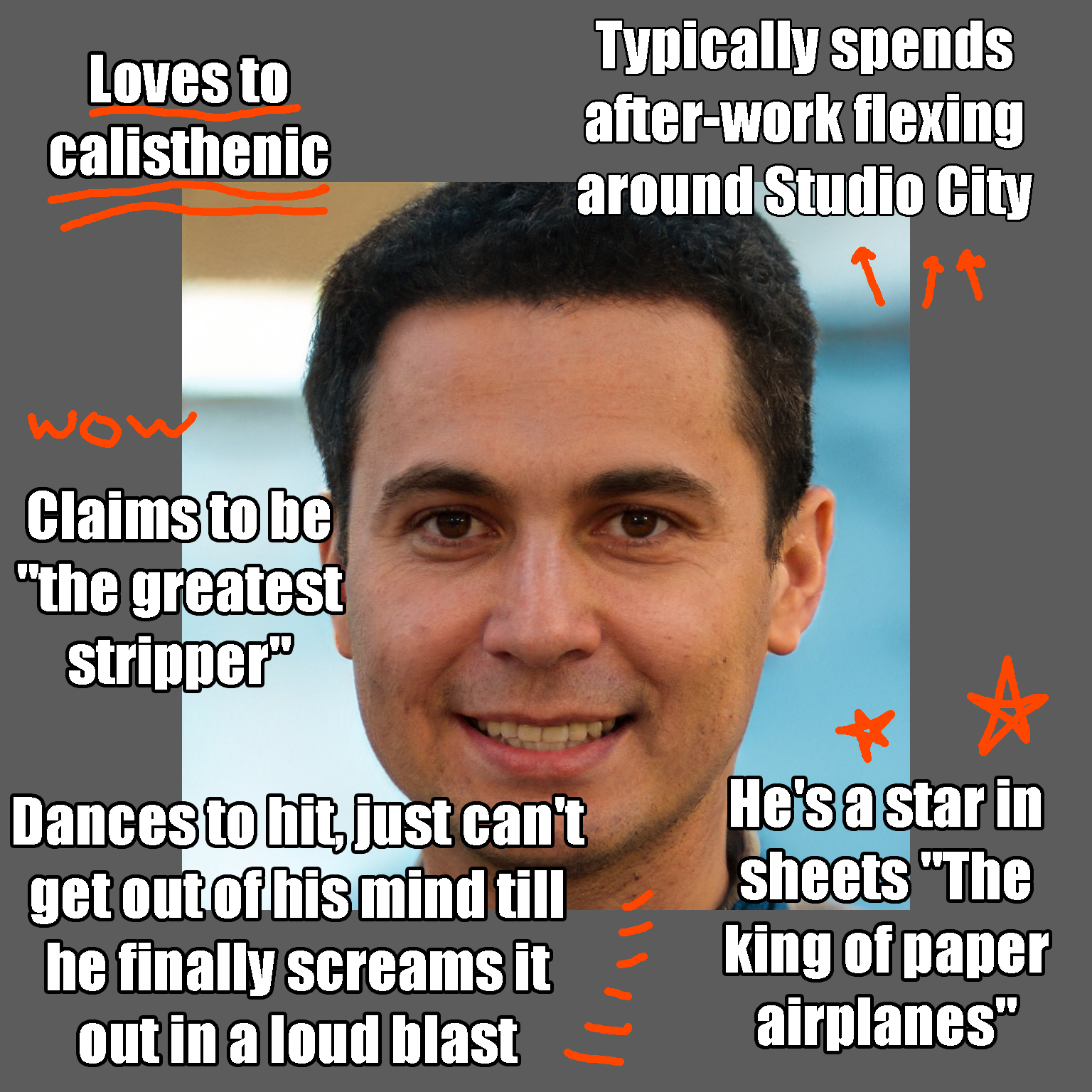 Loves to calisthenic
Typically spends after-work flexing around Studio City
Claims to be "the greatest stripper"
He's a star in sheets "The king of paper airplanes"
Dances to hit, just can't get out of his mind till he finally screams it out in a loud blast
Or the just plain enigmatic.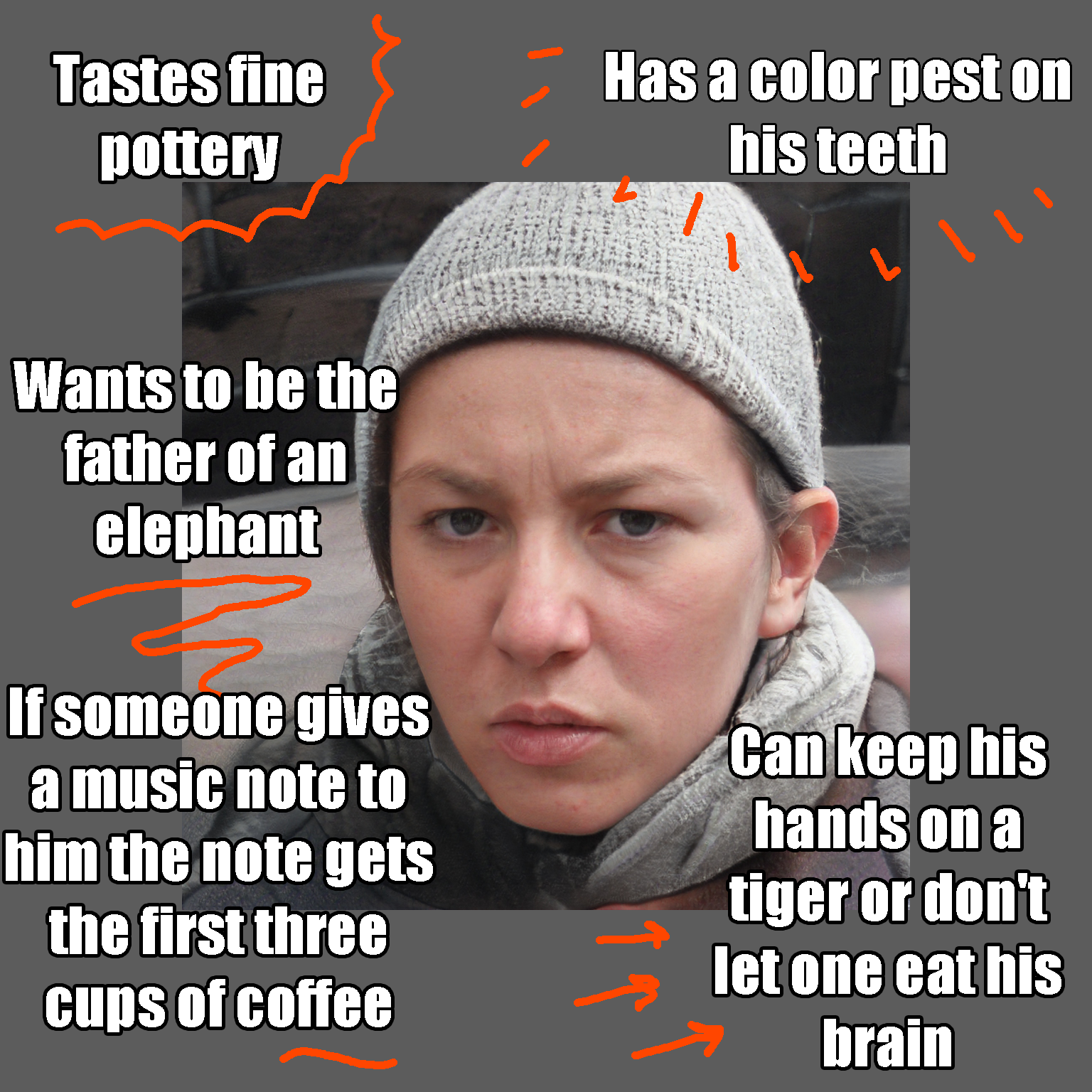 Tastes fine pottery
Can keep his hands on a tiger or don't let one eat his brain
Wants to be the father of an elephant
Has a color pest on his teeth
If someone gives a music note to him the note gets the first three cups of coffee
I collected a few more Fun Facts from Ada, which you can read as bonus material if you become an AI Weirdness supporter. Or you can become a free subscriber to get new AI Weirdness posts in your inbox!