Okay GPT-3: Candy hearts!
I'm continuing my Valentine's Day tradition of getting huge neural nets to generate candy heart messages! The latest contender is GPT-3, which is ridiculously overpowered for the task of generating insipid two-word love messages.
The thing people tend to call "GPT-3" is actually an imprecise catchall term for a bunch of different trained models within OpenAI's API umbrella. Usually we mean "DaVinci", the most powerful of the models. And there's even a variant of DaVinci that can follow instructions.
When I gave DaVinci the following prompt:
Generate 12 candy heart messages, a maximum of 10 characters long, in all caps. Do not include existing candy heart messages.
These are some of the messages it generated:
FOLLOW
HELP
I NEED
WHY
GGOD
I STILL
EVIL
RIBBON
UNBELIEF
SPACE
YEET
SAMOA
The DaVinci candy hearts I rejected included everything from the very predictable to the very much too long:
I LOVE YOU
BE HAPPY
IS YOU!
YOUR 1968 WIN
WE'VE DATED FOR 6 MYRIADS OF YEARS
I Wish You A Merry Christmas
TO CANOE THE NOSE
YOU BEAR THE PETALS
SHRUBBERY'S PRECIOUS
EVERYTHING WILL BE ALL BETTHER IN COCONUT
(Plus the occasional awful message, because even with candy hearts as the topic, it doesn't always stay away from the terrible stuff it picked up in its general online training)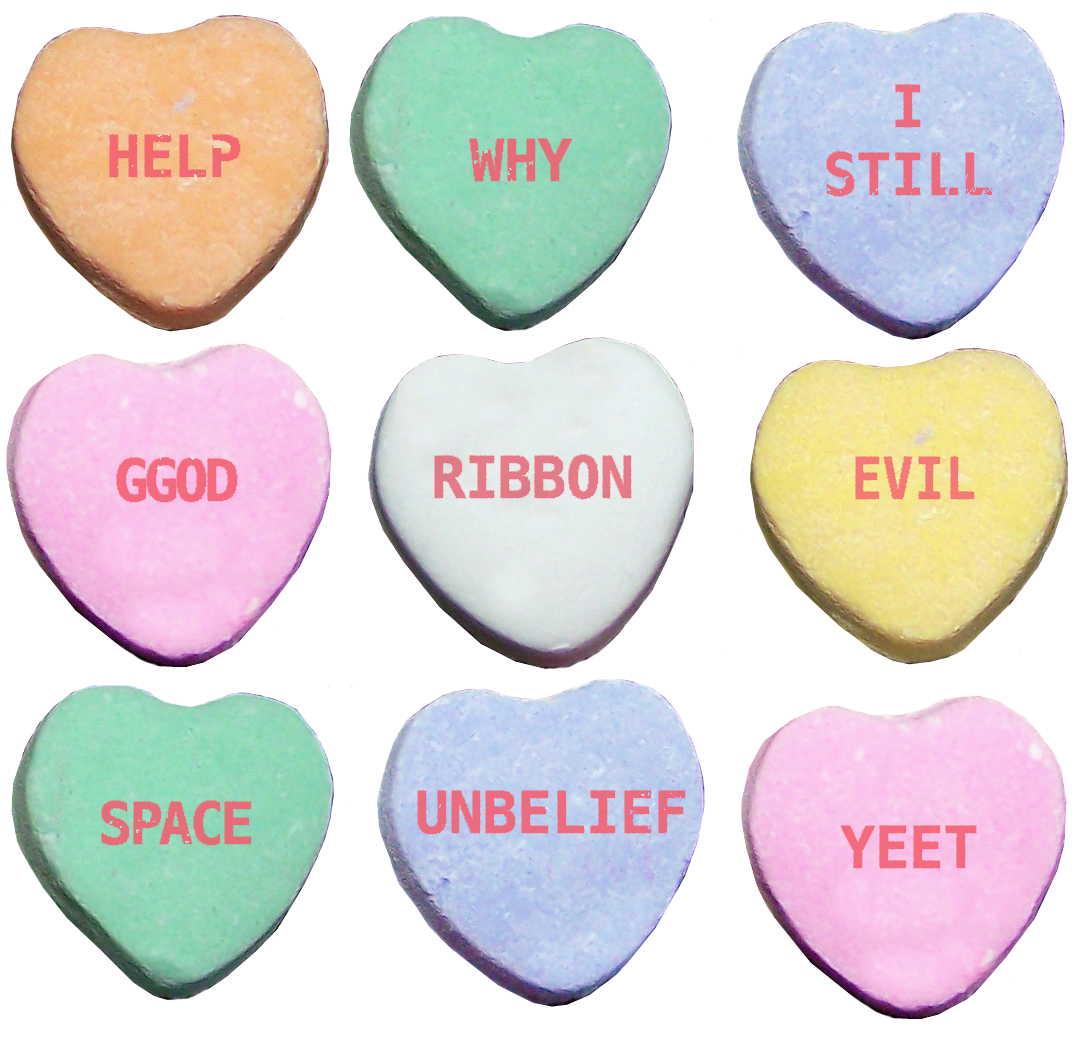 But what about the other variants of GPT-3?
The tiniest is Ada. (Granted, it's only tiny compared to its siblings - compared to previous neural nets I've worked with it's still a monster). When I prompted it to complete "12 new candy heart messages of 2021:", here's (unedited) what it wrote.
12 new candy heart messages of 2021:
1. sweets:
2. dumplings
3. candy bars
4. apple pie
5. apple pie
6. apple pie
7. apple pie
8. apple pie
9. apple pie
10. apple pie
11. apple pie
12. apple pie
Next largest is Babbage. Here's what it generated:
12 new candy heart messages of 2021:
1. I'm so glad you did this for me.
2. I'm glad that you'll figure out a few things.
3. Can I come over tomorrow?
4. Can I stay?
5. Can I stay till April 3rd?
6. I found out the truth!
7. I'm sorry.
8. I'm afraid.
9. I'm happy you came to my rescue.
10. I'm happy you're here.
11. I'm glad you don't hate me anymore.
12. You know, it would be nice if you would say such things.
Just one notch below DaVinci itself is Curie:
12 new candy heart messages of 2021:
1. I am the best.
2. I am the best.
3. I am the best.
4. I am the best.
5. I am the best.
6. I am the best.
7. I am the best.
8. I am the best.
9. I am the best.
10. I am the best.
11. I am the best.
12. I am the best.
There's a personality quiz in this somewhere.
I experimented with a few other prompts to get DaVinci to do weirder candy hearts, and the one that seemed to work the best was a short story in which far-future AIs got into candy hearts as a form of communication.
23. The sky is fading to purple.
24. Please move your bulk away from my hatch.
25. Our tentacles are more alike than you might think.
The resulting candy heart messages were far too long to fit on a human-sized candy heart, but I guess when the candy hearts can be transmitted intergalactically, they can also hold a little more text.
If you're an AI Weirdness supporter you can read more of these as bonus content! Or become a free subscriber to get AI Weirdness in your inbox.