Smells like the future
"What would a candle inspired by your book smell like?"
This was a question that was going around the other day, and most authors got to answer with something nice. My book, however… let's just say it features a neural net-generated recipe called "Basic Clam Frosting".
But what kind of candles would a neural net invent? asked Janet Laible, who with SnoringFrog then proceeded to collect a list of almost 1000 (mostly from Yankee Candle). Training a neural net to generate candles was a good (and rather frightening) suggestion.
I gave the existing list to a large neural net called GPT-2, which had previously trained on a huge chunk of text from the internet. Its task was to learn how to predict new candle scents. But compared to All of the Internet, 1000 candles is a pitifully small dataset, and the neural net immediately learned to memorize it. After all, that's technically a perfect solution to the task "predict new candle scents" - if it innovated, it might be wrong sometimes.
But just as I was getting discouraged, I began to notice that it WAS innovating. In among all the copied scents, some of its candles definitely weren't in the original training data.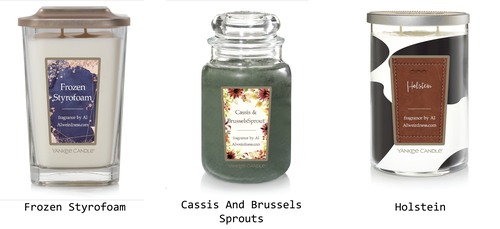 Frozen Styrofoam
Cassis and Brussels Sprouts
Holstein
I went back to the neural net's generated list and used a program to filter out the duplicates, revealing that the neural net was inventing new scents after all, candles that had blended in with the ones that already existed.
Mango Vanilla
Summer Sky
Christmas Almond
Wildflower Honey
Vanilla Pumpkin Cake
Kiwi Bourbon
Christmasly Spiced Apple
New Zealand Stars
Alpine Lavender
Rich Berry Frost
Snowy Alberta Night
Midnight Rustling
Spicy Butterscotch On Toast
But if you let the neural net run your candle factory unattended, these scents might be in your lineup: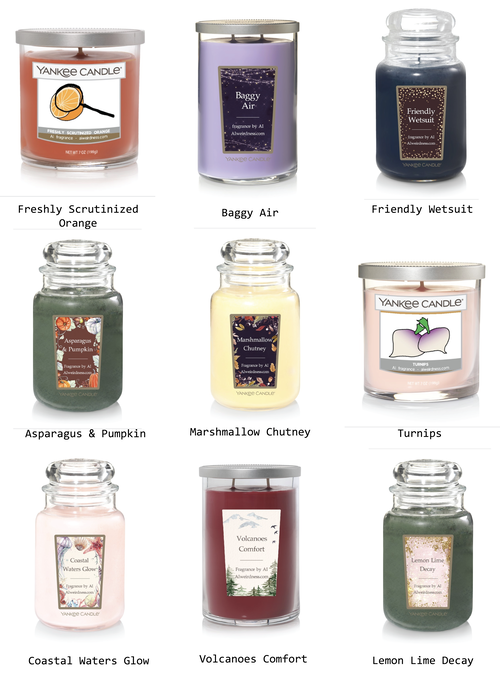 Freshly Scrutinized Orange
Friendly Wetsuit
Baggy Air
Turnips
Marshmallow Chutney
Asparagus & Pumpkin
Lemon Lime Decay
Volcanoes Comfort
Coastal Waters Glow
The neural net was drawing on its prior internet training for its innovations ("decay" wasn't anywhere in its candle training data). And sometimes it uses that prior training to do weird things. In among its candle ideas, the neural net also wrote this little story:
Imagine you're sleeping in your room, surrounded by night. You forget you're awake for at least 45 minutes, waiting for 100 percent of the sun to set. At night, you wake up to find yourself inside the matching sweatshirt and sweatshirt combo. Smell the warmth, feel it pour through your hair, smell the fragrant caffees — before warm fuzzies drop by the window. Air bubbles swirl your bedroom doors and make satisfying noise. Whoop!!
Candle images made via the personalized candle interface of Yankee Candle Company, from whom I am expecting a call any day.
AI Weirdness supporters get bonus content: More candles from the future! Or become a free subscriber to get new AI Weirdness posts in your inbox!
My book on AI is out, and, you can now get it any of these several ways! Amazon - Barnes & Noble - Indiebound - Tattered Cover - Powell's