Tasty British snacks
The other day this happened: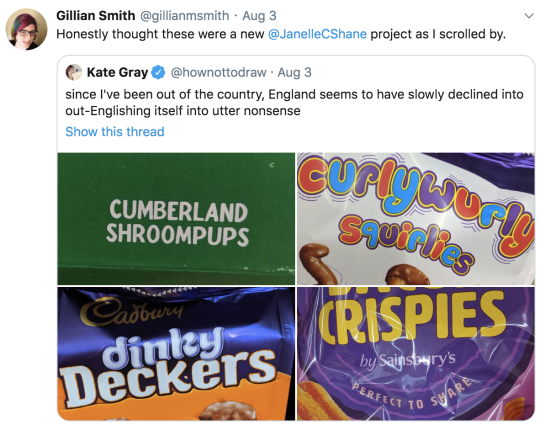 I took it as a challenge. After all, a neural net prompted with existing cookie recipes managed to invent Hand Buttersacks, Apricot Dream Moles, Grandma's Spritches, and Walps.
I used talktotransformer.com to prompt a neural network called GPT-2 345M with a list of the four snacks from the picture: Bacon Crispies, Cumberland Shroompups, Curlywurly Squirlies, and dinky Deckers. I didn't give it any special training, just assumed that if it had seen enough other weird British snacks online, it would know how to add to the list.
As it turns out, the neural net made a decent attempt at it:

Crawbears
Tortoiseshell Curries
Jiggy Biscuit Chews
Derby Puddles #4
Fishy Clumsies
Puff-o-Matic Gobblers
English Grumpy Dumplings
Edgeless Squishy Bellybelly Beetles
Eyeball Shrubbin' Fluffers
Gentle Shrobble Mice
Downright Cheeky Bunchies
Dutch Ducky Whiskins
Mighty Spudgie Bellybeef
Dry-Spindly Snacking Bits
Edible Shredding Dumpkins
Slender Blue Pigeon Rolls
Duck-a-Doodle-Doo Stix
They weren't always plausible, though. Sometimes the neural net would interpret the prompt as a list of D&D monsters or a list of birds or fish. Other times they would manage to be even weirder than the original list.

Electric Snail Wings
Giant Sticky Moles
Ellies with Stems
Endless Eels
Doomed Moochies
Donna's Glorious Grub
Dogs with Eyes on Them
Oooh Yum Sweetcorn Puddles #2
Ecstatic Spiders
Hydro Glittering Taffy
Grapefruit Sushi in a Jar
Dr. Muffin's Glitzy Spiced Sausage Flakes
It also had a strange obsession with eggs. I *think* that the reason is my prompt was coincidentally in alphabetical order, so it would often start listing things beginning with D and E. Why eggs in particular though, your guess is as good as mine.
Egg-O-Matic Squishes
Eggs on the Ceiling
Eggs on Wheels
Eggs and Eggs
Extreme Eggs
Eggs-A-Quack
Eggs-Bite-It
Eggs-Biz-It
Eggsy Eggs & Cheezes
Eggs of Wonder: Eggs of Wonder!
Eggs of Wonder: No, We're Not Just A Scamp!
Excitement Rings: Egg Scratches!
And then there were the Bad Idea snacks.

Dry Dungworms
Deadly Squashies
Muffin Poops (Sizes: 12, 15, 20)
Grey Sea Dipping Slugs
Do-It-Yourself Dung
Elbow Butter
Eyeball Floss
Slimy Twinkles
Eclectic Stinky Wuzzies
Easy Peasy Mummy Snacks
Eggplant With Fungus, Yellow
Hairy Cream and White Cabbage Slabs
Eyecandy Pins with Chocolate Chip Toppings (with sprinkles)
This is what snacks will be like in the Simulation.
For more snacks, including the neural net's other obsession, ducks, become an AI Weirdness supporter to get them as bonus content! Or become a free subscriber to get new AI Weirdness posts in your inbox.
Also I have an AI book coming out! Preorder links:
Amazon - Barnes & Noble - Indiebound - Tattered Cover - Powell's - Books-A-Million