This time I DIDN'T train a neural net to generate candy hearts
I've trained neural networks to generate candy hearts before, and the process goes something like this:
collect as many existing candy heart messages as I can (which was 366)
give them to a clueless neural net that tries to imitate them
allow the neural net to generate its 100% humanlike imitations
STANK LOVE, HOLE, SWEAT POO, TIME BEAR, LOVE 2000 HOGS YEA
That neural net started with zero knowledge of English and could only learn what was in those original 366 heart messages - and it didn't know to avoid certain letters in certain combinations.
This time I tried using GPT-2, a neural network that had already learned a lot about to write English from scanning millions of web pages. It had learned to predict what comes next in whatever text you give it - give it the ingredients of a recipe and it'll try to do the directions, or start listing your favorite animals and it'll try to think of more. It had no special training on candy hearts (although possibly it had seen lists of them online), but I used talktotransformer.com to give it lists of existing candy hearts to add to, to see what it would come up with.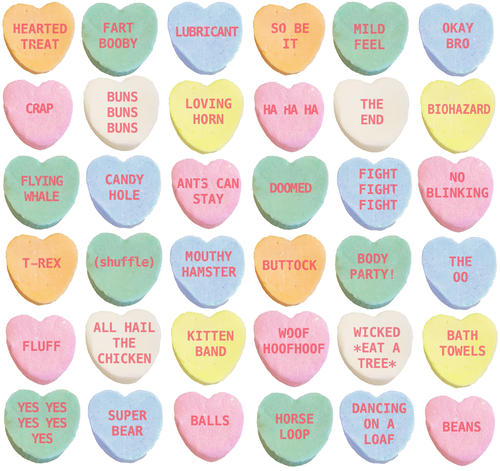 Keep in mind that this was not a neural net specially trained on candy hearts. What I was doing was kind of like walking up to someone and shouting "HOT STUFF! COOL DUDE! LOVE BIRD! CALL ME! WHIZ KID! AS IF!" That would be confusing to anyone, but really, it was still a bit strange of the neural net to respond by shouting "LUBRICANT!".
Did it have any idea what was going on? Probably not. After it had listed a few messages in all-caps, it would sometimes continue with other kind of text, and from there I could tell that it thought it was generating:
song lyrics
band names
fun animal facts
a campus tragedy
ringtones
Even when I gave it a clue and prefaced its prompt with "These are some candy heart messages:" it still didn't seem to know what it was doing. Candy hearts were probably rare in its training data (unlike harry potter fanfiction). Another clue was that its candy heart messages were often super long - it had no concept of a length limit and seemed to be taking its cue from human all-caps shouting.
DIFFICULTED ACCESS, REALLY NEED THE LOW DENSITY COD
GOD BLESS YOU UNDEAD CREW >.>
HOT STUFF MY BODY IS
POPPING AND FLOWING LOVE
[SHEETS ON THE DANCE FLOOR (21')]]
MESSAGE FROM A CRYPT SAYING ITS NICE TO SEE YOU SENDING ME A FRIENDLETTER
I WOULD LIKE TO KNOW WHAT DAY IT IS
BEWARE OF OUR BOTTOM LAYER
HOW TO DRESS LIKE A BAT
AMERICAN OCEAN CABBAGE DELIGHT
CHOCOLATE BANANA PARMESAN
ON THAT NOTE, may I offer you a cookie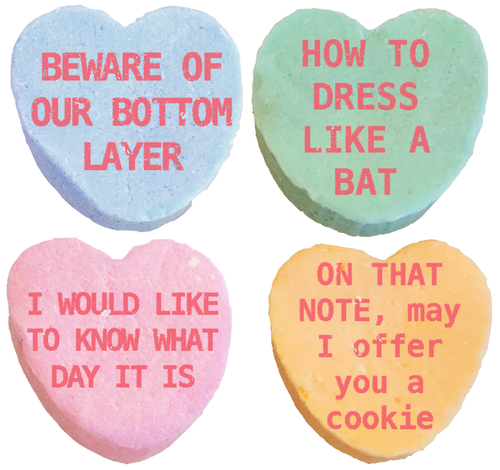 It's so much fun confusing neural nets.
AI Weirdness supporters get bonus content: More candy heart messages, including some you DEFINITELY wouldn't find on an official candy. Or become a free subscriber to get new AI Weirdness posts in your inbox!
My book on AI is out, and, you can now get it any of these several ways! Amazon - Barnes & Noble - Indiebound - Tattered Cover - Powell's