A neural network designs Halloween costumes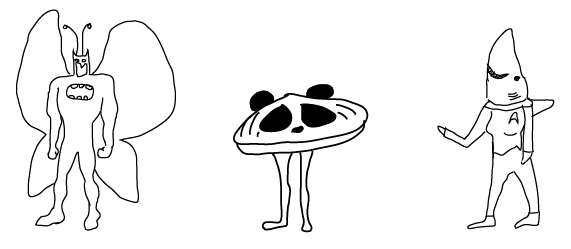 It's hard to come up with ideas for Halloween costumes, especially when it seems like all the good ones are taken. And don't you hate showing up at a party only to discover that there's *another* pajama cardinalfish?
I train neural networks, a type of machine learning algorithm, to write humor by giving them datasets that they have to teach themselves to mimic. They can sometimes do a surprisingly good job, coming up with a metal band called Chaosrug, a craft beer called Yamquak and another called The Fine Stranger (which now exists!), and a My Little Pony called Blue Cuss.
So, I wanted to find out if a neural network could help invent Halloween costumes. I couldn't find a big enough dataset, so I crowdsourced it by asking readers to list awesome Halloween costumes. I got over 4,500 submissions.
The most popular submitted costumes are the classics (42 witches, 32 ghosts, 30 pirates, 22 Batmans, 21 cats (30 incl sexy cats), 19 vampires, and 17 each of pumpkins and sexy nurses). There are about 300 costumes with "sexy" in their names; some of the most eyebrow-raising include sexy anglerfish, sexy Dumbledore, sexy golden pheasant, sexy eyeball, sexy Mothra, Sexy poop emoji, Sexy Darth Vader, Sexy Ben Franklin, Sexy TARDIS, Sexy Cookie Monster, and Sexy DVORAK keyboard. In the "technical challenge" department, we have costumes like Invisible Pink Unicorn, Whale-frog, Glow Cloud, Lake Michigan, Toaster Oven, and Garnet.
All this is to say that humans are very creative, and this task was going to be tricky for a neural network. The sensible approach would be to try to use a neural network that actually knows what the words mean - there are such things, trained by reading, for example, all of Google News and figuring out which words are used in similar ways. There's a fun demo of this here. It doesn't have an entry for "Sexy_Gandalf" but for "sexy" it suggests "saucy" and "sassy", and for "Gandalf" it suggests "Frodo", "Gollum", and "Voldemort", so you could use this approach to go from "Sexy Gandalf" to "Sassy Voldemort".
I wanted something a bit weirder. So, I used a neural network that learns words from scratch, letter by letter, with no knowledge of their meaning, an open-source char-rnn neural network written in Torch. I simply dumped the 4500 Halloween costumes on it, and told the neural network to figure it out.
Early in the training process, I decided to check in to see how it was doing.
Sexy sexy Dombie Sexy Cat
Sexy A stare Rowan
Sexy RoR A the Rog
Sexy Cot
Sexy Purbie Lampire
Poth Rat
Sexy Por Man
The Wombue
Pombie Con A A Cat
The Ran Spean Sexy Sexy Pon Sexy Dander
Sexy Cat
The Gull Wot
Sexy Pot
Hot
In retrospect, I should have expected this. With a dataset this varied, the words the neural network learns first are the most common ones.
I checked in a little later, and things had improved somewhat. (Omitted: numerous repetitions of "sexy nurse"). Still the only thing that makes sense is the word Sexy.
Sexy The Carding Ging
Farbat of the Cower
Sexy The Hirler
A costume
Sexy Menus
Sexy Sure
Frankenstein's Denter
A cardian of the Pirate
Ging butter
Sexy the Girl Pirate
By the time I checked on the neural network again, it was not only better, but astoundingly good. I hadn't expected this. But the neural network had found its niche: costume mashups. These are actually comprehensible, if a bit hard to explain:
Punk Tree
Disco Monster
Spartan Gandalf
Starfleet Shark
A masked box
Martian Devil
Panda Clam
Potato man
Shark Cow
Space Batman
The shark knight
Snape Scarecrow
Gandalf the Good Witch
Professor Panda
Strawberry shark
Vampire big bird
Samurai Angel
lady Garbage
Pirate firefighter
Fairy Batman
Other costumes were still a bit more random.
Aldonald the Goddess of the Chicken
Celery Blue Frankenstein
Dancing Bellyfish
Dragon of Liberty
A shark princess
Statue of Witch
Cupcake pants
Bird Scientist
Giant Two butter
The Twin Spider Mermaid
The Game of Nightmare Lightbare
Share Bat
The Rocky Monster
Mario lander
Spork Sand
Statue of pizza
The Spiding hood
A card Convention
Sailor Potter
Shower Witch
The Little Pond
Spice of pokeman
Bill of Liberty
A spock
Count Drunk Doll of Princess
Petty fairy
Pumpkin picard
Statue of the Spice of the underworker
It still was fond of using made-up words, though. You'd be the only one at the party dressed as whatever these are.
Sparra
A masked scorby-babbersy
Scormboor
Magic an of the foand tood-computer
A barban
The Gumbkin
Scorbs Monster
A cat loory Duck
The Barboon
Flatue doctor
Sparrow Plapper
Grankenstein
The Spongebog
Minional marty clown
Count Vorror Rairol Mencoon
A neaving hold
Sexy Avical Ster of a balana Aly
Huntle starber pirate
And it ended up producing a few like this.
Sports costume
Sexy scare costume
General Scare construct
The reason? Apparently someone decided to help out by entering an entire costume store's inventory. ("What are you supposed to be?" "Oh, I'm Mens Deluxe IT Costume - Size Standard.")
There were also some like this:
Rink Rater Ginsburg
A winged boxer Ginsburg
Bed ridingh in a box Buther Ginsburg
Skeleton Ginsburg
Zombie Fire Cith Bader Ginsburg
Because someone had entered about 50 variations on Ruth Bader Ginsberg puns (Ruth Tater Ginsberg, Sleuth Bader Ginsber, Rock Paper Ginsberg).
It invented some awesome new superheroes/supervillains.
Glow Wonder Woman
The Bunnizer
Ladybog
Light man
Bearley Quinn
Glad woman
robot Werewolf
super Pun
Super of a bog
Space Pants
Barfer
buster pirate
Skull Skywolk lady
Skynation the Goddess
Fred of Lizard
And oh, the sexy costumes. Hundreds of sexy costumes, yet it never quite got the hang of it.
Sexy Scare
Sexy the Pumpkin
Saxy Pumpkins
Sexy the Pirate
Sexy Pumpkin Pirate
Sexy Gumb Man
Sexy barber
Sexy Gargles
Sexy humblebee
Sexy The Gate
Sexy Lamp
Sexy Ducty monster
Sexy conchpaper
Sexy the Bumble
Sexy the Super bass
Pretty zombie Space Suit
sexy Drangers
Sexy the Spock
I've posted the entire dataset as open-source on GitHub!
Become an AI Weirdness supporter to get bonus content! Or become a free subscriber to get new posts in your inbox.