Your pumpkin spice experience, brought to you by AI
Here in the Northern hemisphere, there's finally a chill in the air, bringing with it an avalanche of decorative gourds and a generous helping of pumpkin spice. Let's see if an artificial neural network can get into the spirit of things.
Earlier, I trained a neural network to generate names of craft beers, thanks to Ryan Mandelbaum of Gizmodo, who inspired the project, and Andy Haraldson who extracted hundreds of thousands of beer names from BeerAdvocate.com. The beer names came in categories, and one of them, as it turns out, was "Pumpkin". Now, clearly, is the time for this category. I added the beers from the "spice" and "winter warmers" category, making a total of 3584 beers, and I gave the list to a neural network to try to imitate.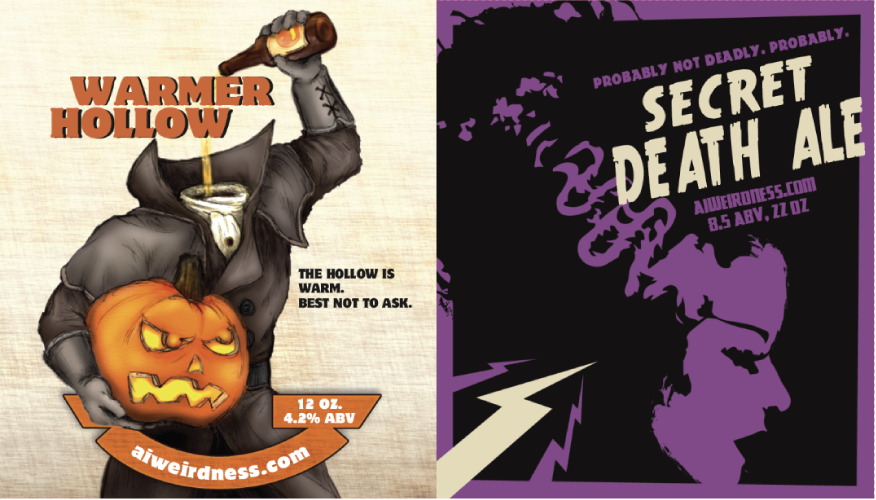 (Beer labels generated via Grogtag.com)
Kill Ale
Alive Ale
Lemonic Beer
Warmer Hollow
La Spiced Fright Brew
Organic Mar And Doug
Strawbone Masher
Not Beer
Bog Porter
Pumpkin Pickle
Blood Barrel Beer
Stumpkin Ale
Santalion Winter Ale
Pumpkin Man
Gruppie's Pampkin Belging Main Ale
Winter Winter This Dead Ale
The names came out rather spookier than I had expected. Sometimes that happens when I forget that the neural net had previously been trained on metal bands or diseases or something, but in this case, the previous dataset had been Neopets foods.
So, naturally, my next step was to train this neural network for just a little while - just long enough - on metal bands. Via transfer learning, I could get the neural net to apply some of its pumpkin spice knowledge to its new task of generatng metal bands. I just had to stop the training before catastrophic forgetting happened - that is, before the neural net forgot everything it knew about pumpkins and just went 100% metal. It took just a few seconds of training to turn the pumpkin spice ales just the right amount of metal.
Operation: Spoopify was a success.
Secret Death Ale
Ale Gore
Pumpkin Winter Holes
Flesh Head
Spice Gore
Spice Prophecy
Dead Pumpkin Storm
Pumpkin Area
Child Shadow Ale
Dragon's Winter Horse
Pumpkin Rotten Illusage
Man Spine I
Purpky Stumpkin
Pumpkin Imperial Sin
Skin Ale
Bleeding Ale
Winter Suul
Pumpkin Disaster
Grave Void

But what if I want a slightly different feel? Less gory, more uncanny? Nobody does uncanny like the podcast Welcome to Night Vale, in which ominous lights appear above the Arby's and screaming voids are a routine road hazard. It turns out that a neural net with Night Vale transcripts in its training history will retain strong and haunting memories of this past for quite a while. So friends, Welcome to Night Vale Pumpkin Ale .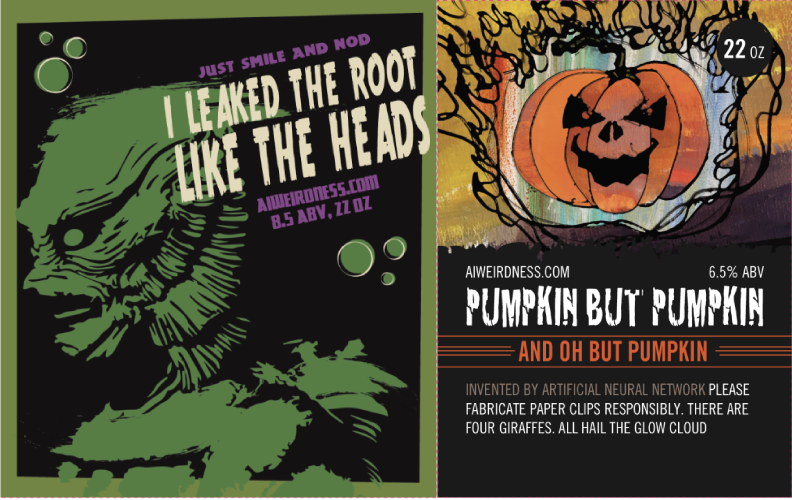 Faceless Ole Ale
[Head]
Oh Ale
Do I The Winter Face
Welcoming Ale
Hey God
Slacks.
Ginger Pull, Winking
Head The Secret Pumpkin
Pumpkin But Pumpkin and Oh But Pumpkin
Ale Human
OK?
I leaked the root like the heads
[BEEP]
Nothing Pumpkin Pumpkin Ale
I do need the news of The Guns
The Corrected Pumpkin Angel
Pumpkin's Garfacksksknes
For the results of one more experiment in which I trained the neural net on the pumpkin ales plus Edgar Allen Poe's "The Fall of the House of Usher" as well as the more, um "spicy" pumpkin ales, enter your email here. You can optionally get cool bonus material every time I post!