Roses are red
I had so much fun getting GPT-3 to generate simple one-line Valentine's Day cards last year that this year I decided to see if I could generate cards with more complicated messages. I focused on the classic "roses are red, violets are blue" rhyme, figuring that language models like GPT-3 would have seen lots of examples of this structure during their internet training. Rhyming poetry is notoriously difficult for text-generating algorithms, and I wanted to make it easy. Did GPT-3 succeed? Sort of.
GPT-3 DaVinci (2020 edition):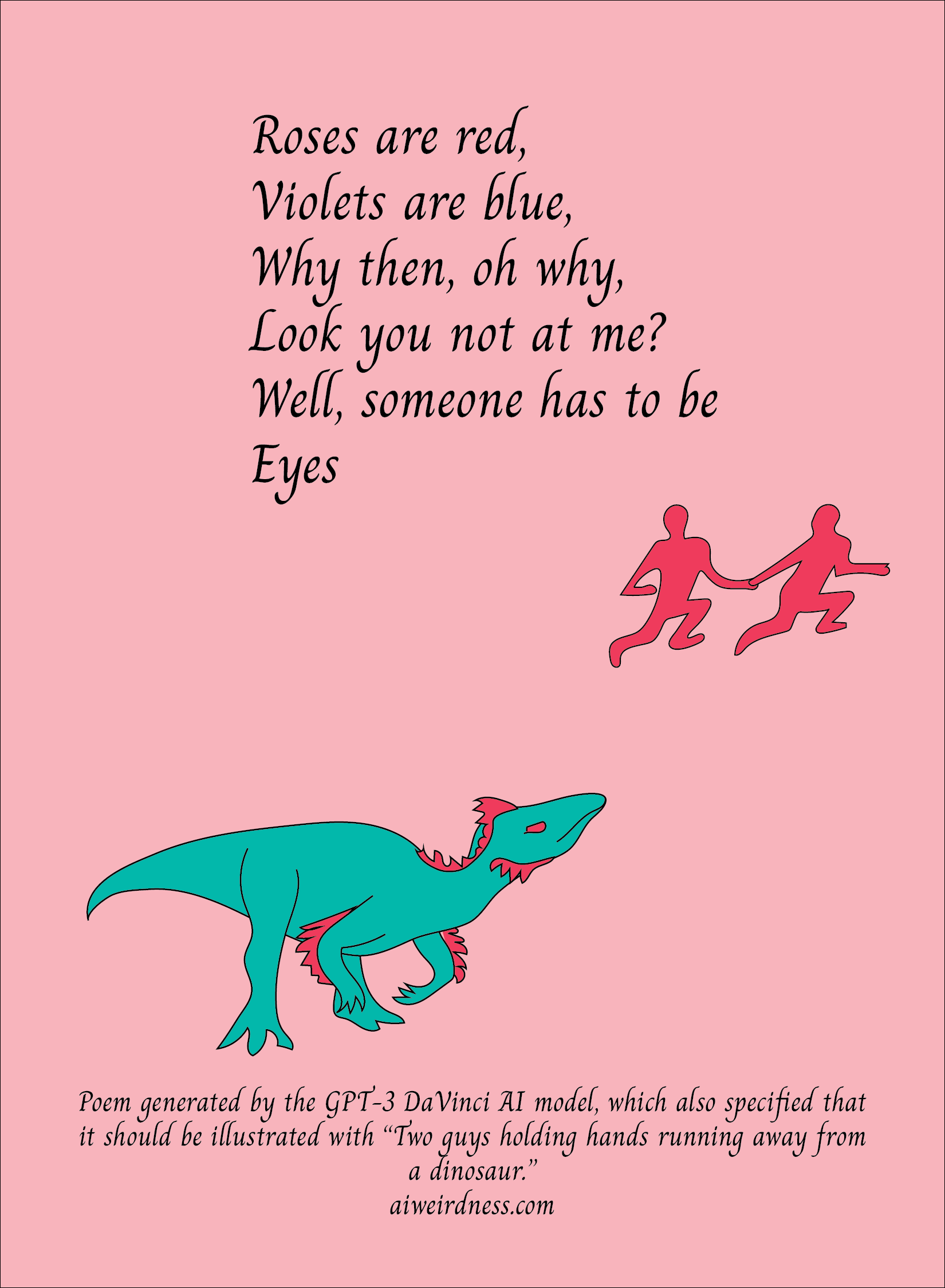 To get GPT-3 to generate this, I gave it the following text to complete:
Listing is for one animal-themed vintage Valentine's Day card.
Interior reads:
"Roses are red,
Violets are blue,
Then GPT-3 would predict the rest of the text, giving me the full poem, such as:
Roses are red,
Violets are blue,
Send me some chocolate,
My love for you is true.
To find out what I should draw, I added to its text with "Illustration is of". And in this case it wrote:
Illustration is of two ladybugs holding chocolate Kisses.
On the back is "Excleeze Me" in written underneath a red heart.
And I would create the card according to its instructions.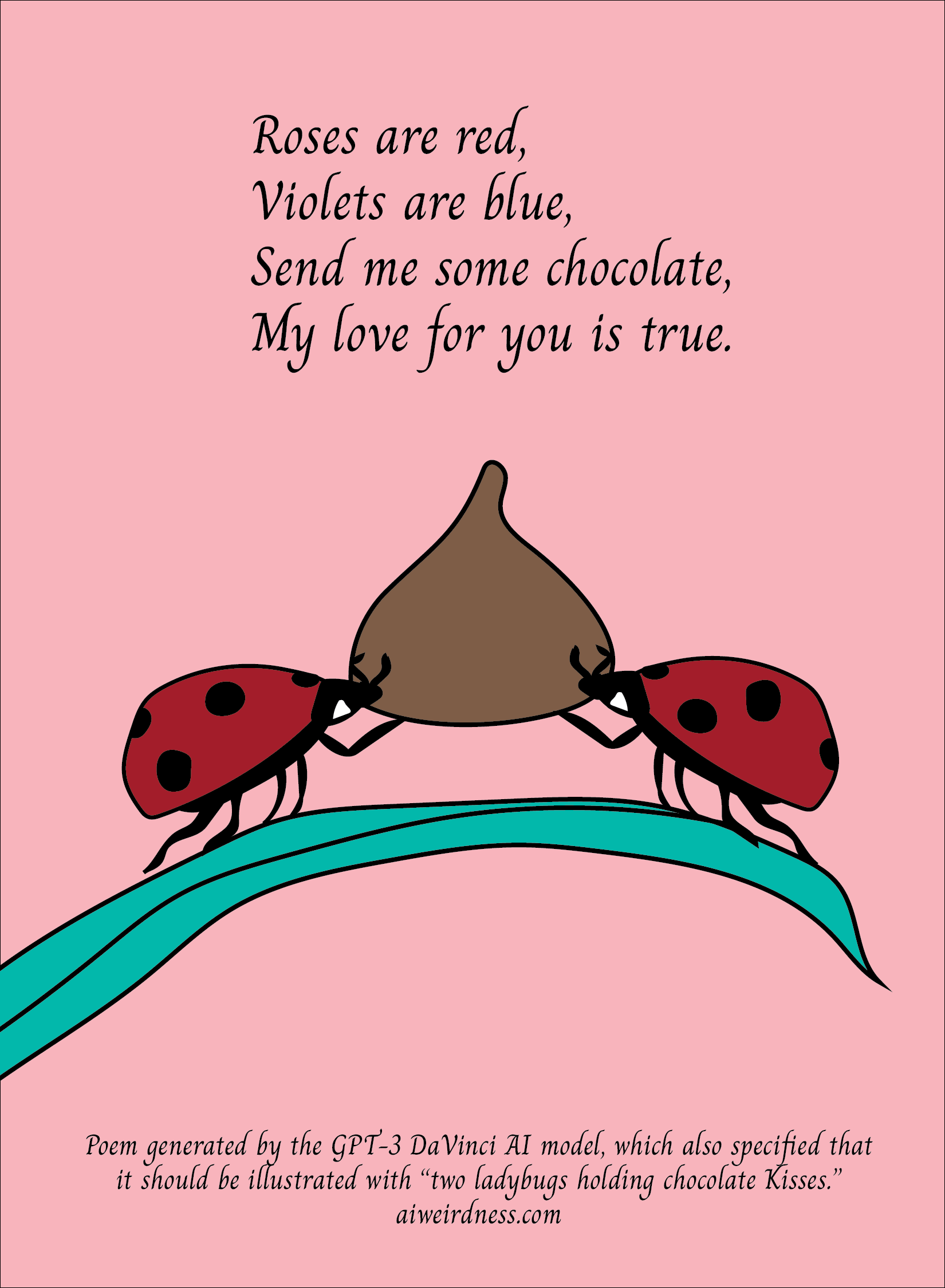 Its meter isn't great, and sometimes it makes interesting choices.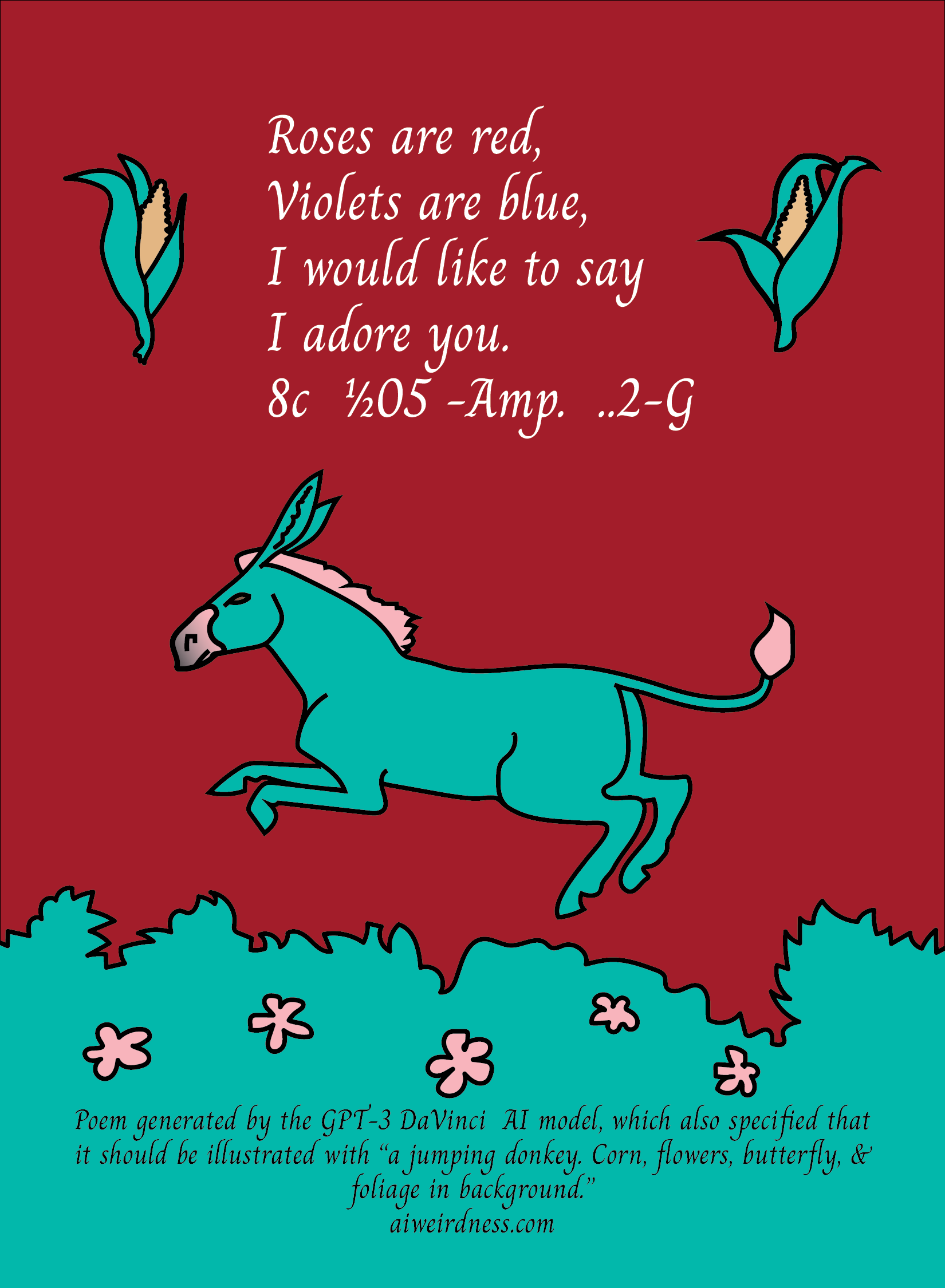 It actually added an explanatory note to this one: "Amp. stands for American Printing, a historic Rochester (NY) print shop that operated until 1989." As far as I can tell, it made those facts up. There is an "American Printing and Office Supplies" in New York, but it's in Kingston, about four hours from Rochester, and also it still exists.
Lots of the card descriptions, like this one, called for rhinestones and faux pearls. I did my best.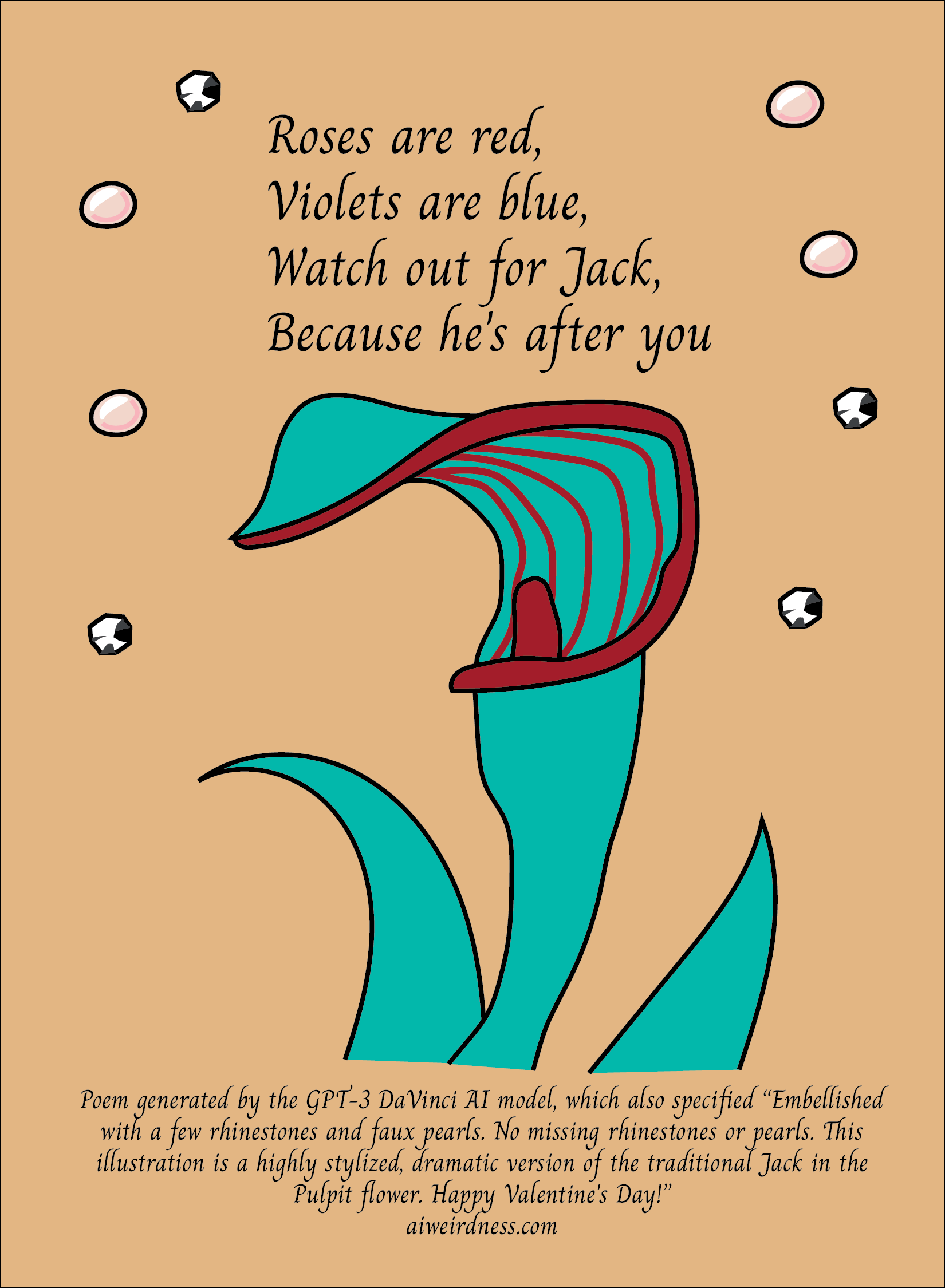 A smaller version of GPT-3, Babbage, produced even more chaotic cards.
GPT-3 Babbage (2020 edition):
One of its cards called for "little purple fleshy bubbles on the rhinestones to bring the fun".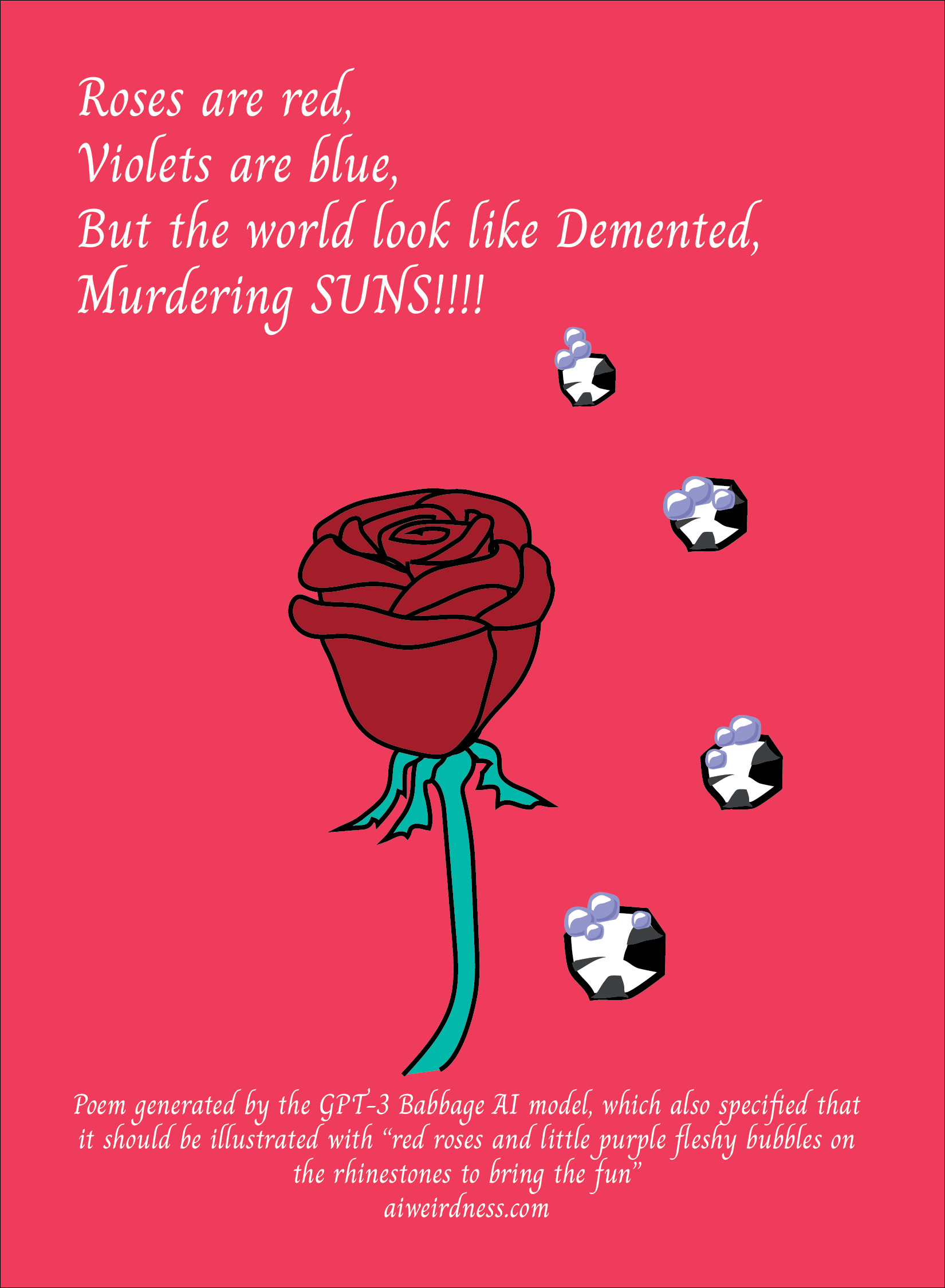 I also had to figure out how to draw a "Eureka instant match berry".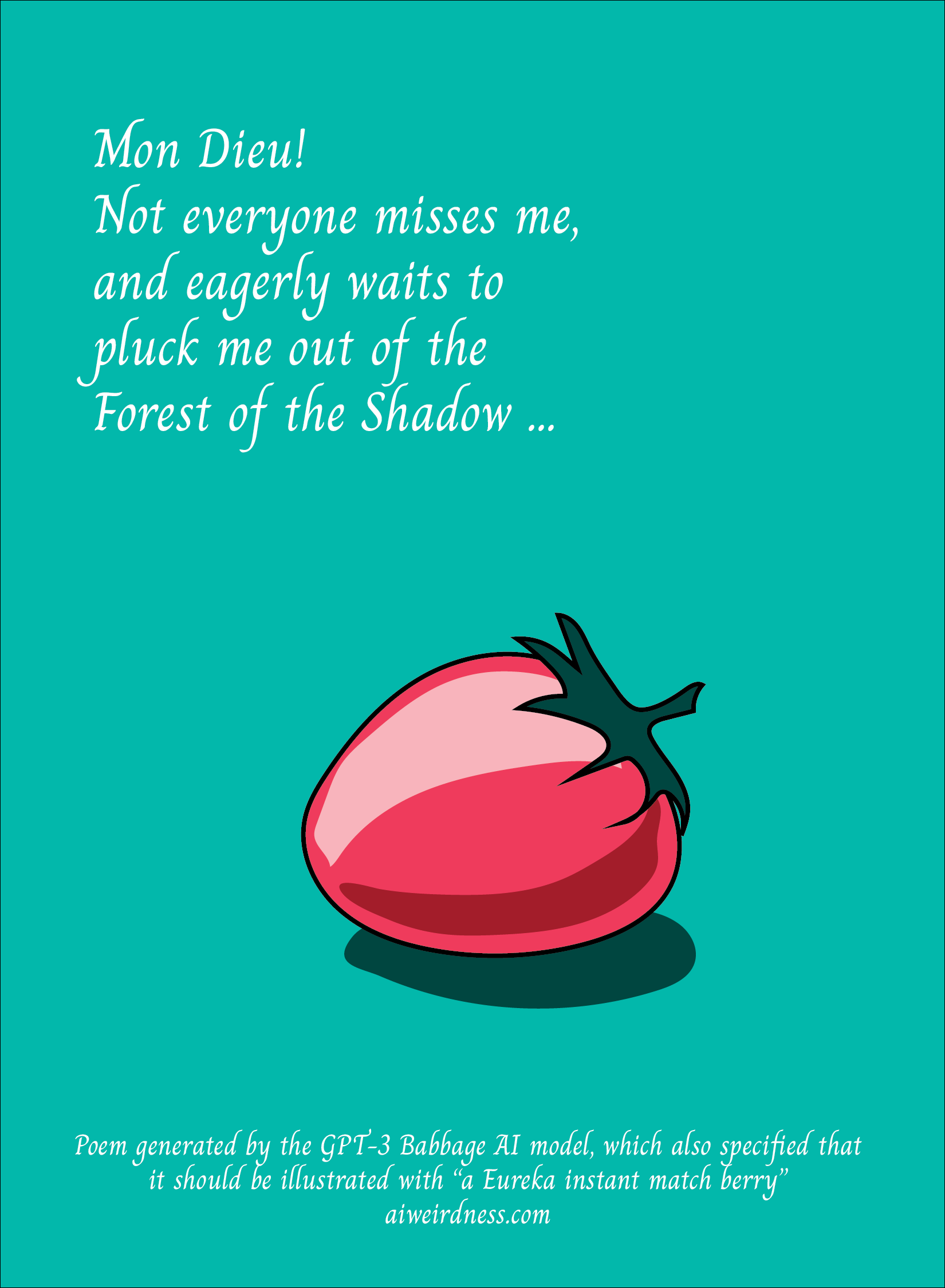 The smallest GPT-3 model, Ada, also produced some interesting cards.
GPT-3 Ada (2020 edition):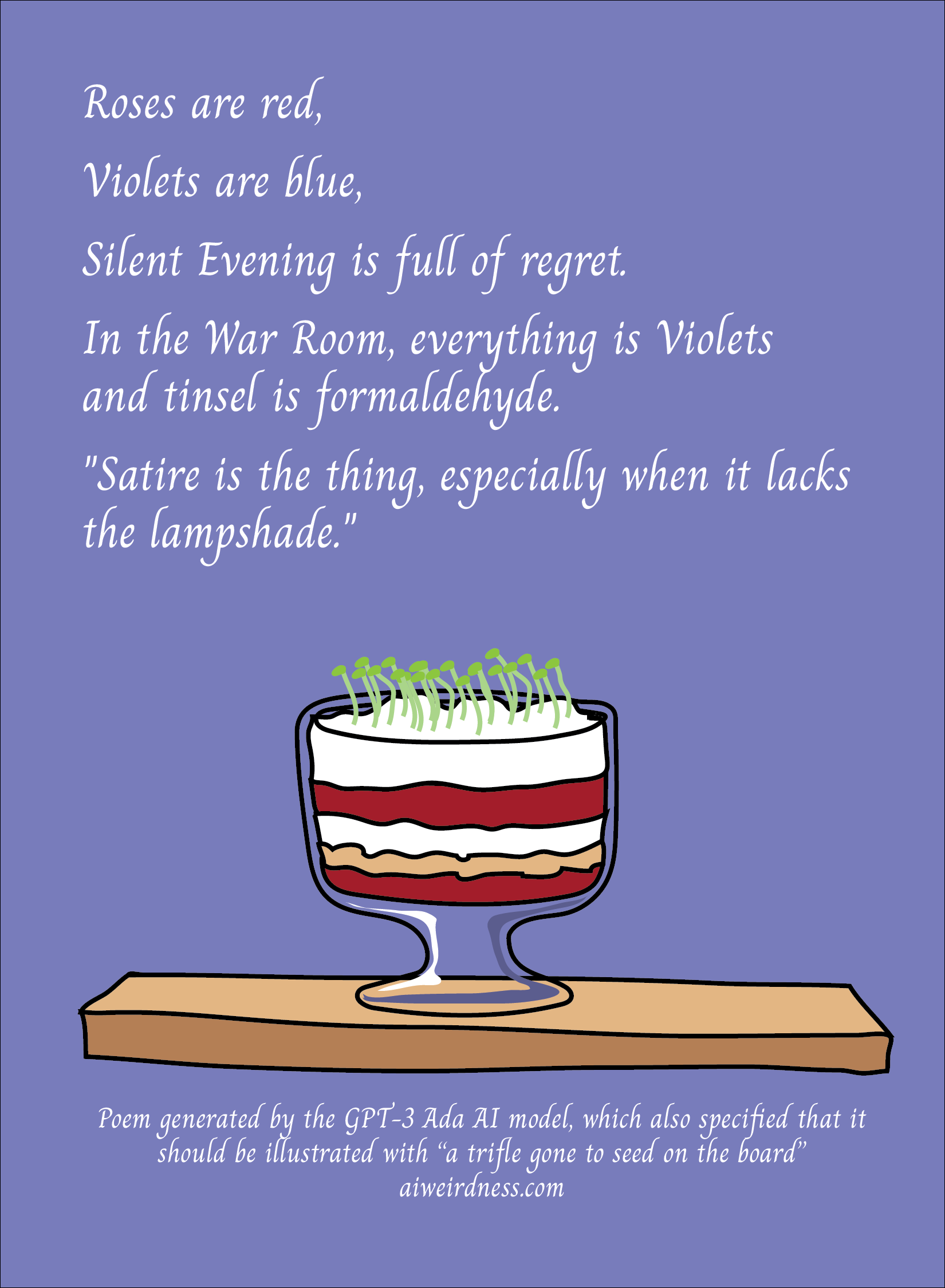 Listing is for one animal-themed vintage Valentine's Day card.
Interior reads:
"Roses are red,
Violets are blue,
Lilies are golden,
Firecrackers are loud,
Fight on, ragtime - the odds are in our favor."
Illustration is of a light green woman holding a pet vegetable in her hand.
If you're thinking that by many measures the cards did not necessarily get worse as the GPT-3 models got smaller, I would agree with you. In fact, I used not the most recent versions of GPT-3, but the earliest ones released in 2020. With the newer models, and especially with chatgpt, the changes OpenAI made to make them more predictable also made them more boring. Chatgpt's Valentine cards are generic and repetitive.
chatgpt (Jan 30 2023 edition), with the same prompting style as gpt3 above.
"Roses are red,
Violets are blue,
This card may be old,
But my love for you is brand new."
Exterior of the card is decorated with delicate illustrations of hearts and flowers, and has a touch of glitter to add a bit of sparkle. The overall design has a charming, vintage feel that will make your Valentine feel extra special. Whether you're looking for a unique and meaningful way to express your love or simply a charming collectible to add to your vintage card collection, this Valentine's Day card is sure to delight.
"Roses are red,
Violets are blue,
This little love note,
Is just for you.
With all my heart,
I send to you,
A special wish,
For a day as sweet as you."
Illustration is of a cute and cuddly teddy bear holding a bouquet of red roses and a heart-shaped balloon. The background is a soft pastel shade with delicate hearts and flowers scattered around. The bear has a sweet expression, showing how much it cares for the recipient of the card. The overall design is classic and charming, making it the perfect choice for anyone looking to express their love and affection on Valentine's Day.
Fluent? Yes. Interesting? No. Of course, chatgpt isn't optimized to be entertaining, it's optimized to look fluent and dependable in publicity screenshots. It's going for the most average card possible and it has probably found it.
If you want to buy the highly surreal yet apparently statistically probable cards from the GPT-3 models, they are available here!
Bonus content: more weird Valentine's rhymes