Trendy beer names, invented by neural network
I train neural networks, which are a type of machine learning algorithm that look at example data and learn to generate more like it. There's little I have to do other than present a neural network with examples to look at, and it deduces its own rules, often applying them in weird and unexpected ways. Just based on what it sees in the training data, a neural network can generate recipes, names of metal bands, or names of kittens.
Earlier, I trained a neural network to generate names of craft beers, thanks to Ryan Mandelbaum of Gizmodo, who inspired this project, and Andy Haraldson who extracted hundreds of thousands of beer names from BeerAdvocate.com. I trained it separately on beer names from different categories, and soon it had figured out to produce distinctive types, including:
Stouts:
Shunkall
Midnight Shale
Spulgican's Chocolate Coconut Pamper

IPAs:
Yampy
Dang River
Borb!
A bunch of semi-plausible but nonexistent beers resulted. Then I heard from Old Nation Brewing in Williamston, Michigan, who were almost finished brewing a new beer, but still hadn't managed to find a name for it.
They explained what kinds of keywords they were looking for: Juice, haze, New England, Vermont, citra, Belgium, spicy, clove, saison, farmhouse, "all these trendy new hazy IPA names". I searched my database for any beer names having to do with these keywords, and threw them all into the mix for the neural network. It worked. But before I share with you the name they chose, let me first share: the rejects.
Now, not all of these were terrible. Although some of them definitely were.
To get a sense of what was in the dataset, let's start with the lowest-creativity output setting. These are the beer names that the neural network felt best exemplified the original dataset. As you can see, there are a lot of saisons. There's also a lot of French, although not so many examples that the neural network ever quite got the hang of French articles (I sympathize).
Saison De La Saison
Saison De Saison
Saison Du Saison
Saison De Le Petite Saison
Farmhouse Saison De L'Imperial Saison
Chardonnay Barrel Aged Saison De Saison
Saison De La Barrel Aged Saison
Barrel Aged Saison De La Saison
Saison De La Series
Saison D'Ete
Saison De L'Autimne
Saison Du Ferme
Saison De La Lemons
Saison Du Beer
Saison Du Bier
Saison Du Bear
Saison Du Farmer
Saison De Man
Saison De Mountain
Saison Du Chard
Saison Du Pant
Saison De Life
Saison De La Mort
Monkey Free Stand Saison
At a higher creativity level, we see more farms and tables (and oddly, monkeys). The French, if anything, gets more questionable. The quality of names has maybe - maybe improved. And they've somehow ended up spookier.
Sunshine Muster Saison
Stick Lake
Rock The Sun Saison
Black Bot Saison
Farmer's Blend
Sunny Farm
French Saison De Pants
Saison Du Liver
Winter Monkey
Saison Du Pies
Field Peach Saison
Friends Lich Saison
Primitia
Molassic Saison
Strange Biere De Table Saison
Saison Du Le Pencher
Say The Table
Forest Monk
Saison De Chine
Summer Death
Creeping North Saison
Saison De Boo
Spring The Dead Saison
Series De Sucker Saison
Firetementus Monkey Saison
Saison De Lo Parpy
Saison Du Carl Saison
At the next-highest creativity level, the good names have gotten better, and the bad names have gotten a lot worse. Oddly, although it doesn't explicitly appear in the dataset, the neural network has inferred the existence, and importance, of chard. Some of these look like they could be My Little Ponies.
Fongelmorenda
Storm Fink
Silent Plow
Side Road #1
Speltranoux
Winter Blood
Star Dance
Dandarina
Britched Rye Saison
Bomble Saison
Side Creek Saison
A Shit Farmhouse Ale
Red Suck Mas Saison
Dark Grave Saison
Farm Fight
Belgian Chard
Five Bool
Brown Hibiscus
Vintumbland
Farm Stone
Hunking Of Mist
Barrel Aged Clander
Friend Saison Fromp
Fleur De Celloquence
Forress Crogion's Swill Saison
At an even higher creativity setting, the neural network's unpredictability increases. It begins making up more words. It begins swearing. It starts taking liberties with English, as well as French, grammar. Old Nation Brewing chose a name from this creativity level.
Summer Dangs Saison
Flasha
Plaraggina
Farmen's Are No. 10
Ginger Mauustic Saison
La Barrel Toee Saison
Flopphive
Ixpicy
Touranhome
The Slow Ale
From The To
Don't The Mountain
Pogle Voe
Love Mutty Mab Farmhouse Ale
Kreathertag
Haburia
Grapecart
Farmer Lure
Poply Bitch
Hoepolo
S Mocket
Clothberry Ale
Speciel Farmhouse Ale
Green The Wosk
Rooly Ganger Dry-Hopped Clow
Ride City Saison
Series: Barrel Oged In Ermeds's Oit Bittirges
Burcumber Jane Rad
Sunshine Bear Chroee
The Thangbaile
Daving Of Du-Shandburs
Fucksing Pear Farmhouse Ale
Rednock
White Bunch
Over Hoppy Trick Saison
The Sliger
At this highest creativity setting, I stopped. Perhaps you can understand why.
ChiphooolBoi
Nerlious
Mayycone
Funky Ever
varumper
You
Saison De Mage
Clushing
Fleur Dull?
Beoobegie Nard
Gel Mar
Blick Disc Saison
Barrel Aged Flaribrest
Stutty Rye
Undonchop
Plop Aged
The Sprong
Greenhunke
Mal?
Saison De Slushie
The Atterasin's Hoot
Double It
Jackal
Runt
Pigzelia
Ectel Goat
Hurid'r Gobfin
Rustic On Oats
4h Finer
Petit Pock
Folle Belly'ss
Attrepid Ghost Doirry-Fermier
Yulla De Abadma Dank Your Sromb
King Recerd New England Blend Series renkip Ensishp Earthsseo The Oake
So, what did Old Nation Brewing finally choose? I introduce to you the very first beer named by a neural network: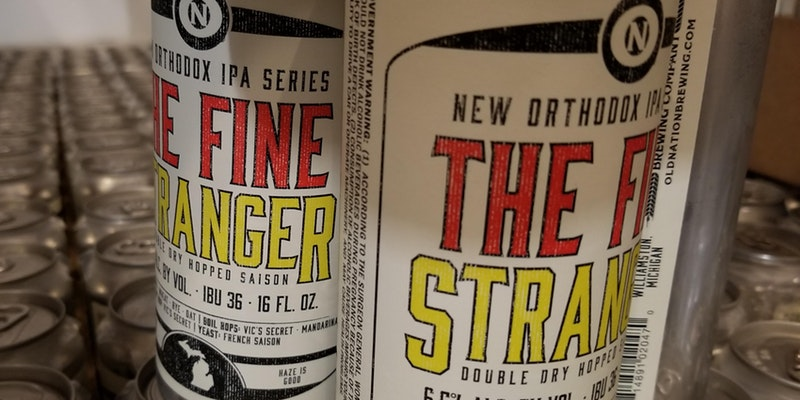 The Fine Stranger
Old Nation is pleased to introduce The Fine Stranger! This unique beer is the latest in the New Orthodox Series of beers. A blend of Old World and New, The Fine Stranger combines a strong, peppery, fruity Belgian Saison yeast strain with the low-bitterness/high-flavor hop goodness of the New England style. We added a special hop blend of Mandarina Bavaria and Vic's Secret in the boil and double dry-hopped it as well. The result is a slightly peppery, fruity hopped beer with the characteristic New England Haze that New Orthodox beers are known for.
Available now if you're lucky enough to be able to shop for beer in Michigan.
Become an AI Weirdness supporter to get bonus content! Or become a free subscriber to get new posts in your inbox.