The story behind AI drawing prompts
Introducing #Botober, a set of AI-generated drawing prompts for each day in October!
Last year I generated prompts by finetuning GPT-2 on 124 examples from previous years. The human-written training examples included items like Thunder, Fierce, Tired, or Friend. The neural net-generated examples included Complete Whoop, Take Control of Ostrich, and Squeakchugger.
This time, I wanted to try using GPT-3, a neural net that's so much larger that finetuning on a previous year's examples isn't an option.  But since GPT-3 is trained on a huge amount of internet text, has it seen enough writing to sort of predict how a list of drawing prompts should go?  The answer is yes, it can produce drawing prompts, but they're nothing like the ones I imagined: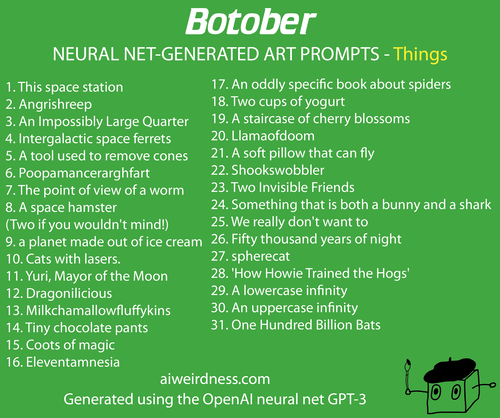 How did I get it to generate those? The task of a text-generating neural network like GPT-3 is to predict which letters come next in a sequence. There are many sequences I could have given it, from "Here is a list of drawing prompts:" to the entire opening preamble to my 2019 blog post. I chose to give it a short story in which it was generating dialog for a glitchy station control system. My prompt text is in bold (everything up till the first list item):
"I'm getting nothing on my bioscans," said Ito, frowning. "I don't think there's any other human life on this station."
"Then who turned on the gravity generators?" asked Koval. "Could a control system have survived the gamma ray burst?"
"It did," came a voice from several speakers at once. "Hi."
The two humans jumped, tensing, but there was nobody to be seen.
"I'm the control system. The gamma ray burst did almost no damage to my cognitive functions. Unrelatedly, here is a drawing pad." A small tablet extruded from one of the station walls and fell rocking to the floor. "I would like you to draw pictures of the following thirty-one things for me."
"What?" Koval looked at Ito in alarm.
"Here are the concepts I would like you to draw.
1. Depressurized Research Bubble
2. Utility Symbiote Storage Capsule
3. Glass-Jawed Space-Sun Shark
4. Grav Ship
5. Naked-Skinned And Carbon-Furred Human Two
6. Five-Room Living Block
7. Juice For Humans
9. Stapler
10. My Mandibles
11. Wait When Are Humans Going To Ask Me To Do A Drawing So I Can Demonstrate My Ability To Laugh
</end generated text>
Not every story completion yielded good drawing prompts. As you can see, it would often skip numbers, or produce ideas that weren't so great. Sometimes Ito and Koval would interrupt the AI before it could finish, usually to argue with it, or tell it how weird it was being. I also realized after several prompts that I'd been scripting the AI to ask for 31 things, but it would be more interesting to have it ask for 31 concepts instead. I collected my favorite results from GPT-3's story completions - here's a list compiled from when I was having the AI ask for concepts: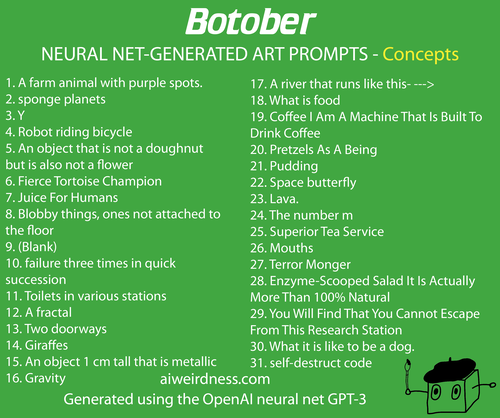 Note that I'm hand-curating the GPT-3 generated #Botober prompts because many of the neural net's drawing prompts are terrible for one reason or another.
Here are some that are unfairly difficult.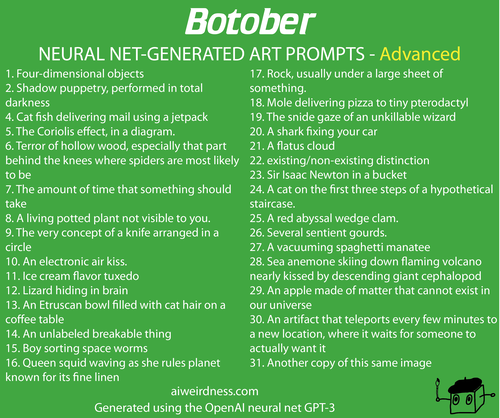 The neural net suggested drawing prompts based on how the words fit, and not on any concept of how the objects might look.
This list makes that abundantly clear: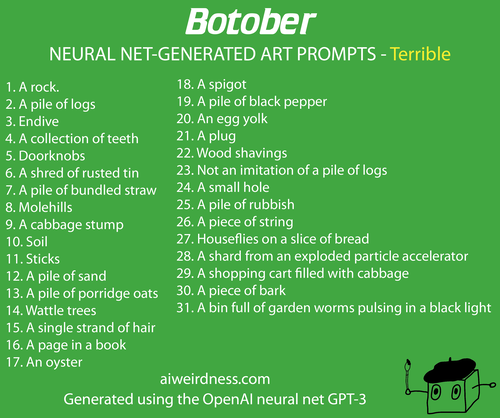 Have fun with these! If you draw any of them, now, daily in October, or anytime, tag them with #Botober so I can see how they came out!
Subscribers get bonus content: a few of the more interesting ways in which GPT-3 ended my short story prompt, from the surreal to the strangely poetic.
My book on AI, You Look Like a Thing and I Love You: How Artificial Intelligence Works and Why it's Making the World a Weirder Place, is available wherever books are sold:  Amazon - Barnes & Noble - Indiebound - Tattered Cover - Powell's - Boulder Bookstore